With one good day near ruined seriously effects the next two to just rest up to the level of juice overly expended foolishly. Sheesh, I still haven't collected all my cut up fire wood laying about since having cut up that last fallen tree what was resting on the fence. Now, today I've got to take to making more hay over the next few days.
Just prior to this round of have to do things I've noticed some shingles missing on the tenant house. Oh boy, I'm not particularly comfortable in the air anymore. I'm not as quick as I used to be, my balance may be a shade off. And I've no idea how I'll go about making those repairs. Perhaps another body on the other side of the house bigger than I handling a life line for me.
~~~~~~~~~~~
` Latest word on my middle kid (son), is good news. He's getting psychiatric help. He's become more coherent having something to do with his electrolyte imbalance straightened out, and he's responding to physical therapy. Halleluiah! May thee all be blessed who've had him in their thoughts one way or another.
~~~~~~~~~~~
I did manage to get into a hay field for a four round spell before called away an implement disc problem. Seems one of the gangs had loosened up. I'm looking for temporary fix to finish this fall's field dressings. Then a complete rebuild this winter or early next spring for working next years plowed fields.
~~~~~~~~~~~
Almost sorry I came in from the cool (refusing to acknowledge its cold) outside. My face hadn't had the varied pains I suspect the heated house had unreasonably induced, plus I've this inherent desire to fall asleep. Balderdash! I want my supper first when I've been such a good boy having waited out the post time period after taken the rattlers.
~~~~~~~~~~~
Got time/some pictures.
Here's one of them disgusting party leftovers fallen to earth in my pasture. Okay most of it is bio-gradable paper ribbons and cotton string. I'm really objecting to the carelessly/thoughtlessly used plastic, latex, and/or rubber for the helium containment vessel to carry the animal endangerment thing a-loft to come down unknown where.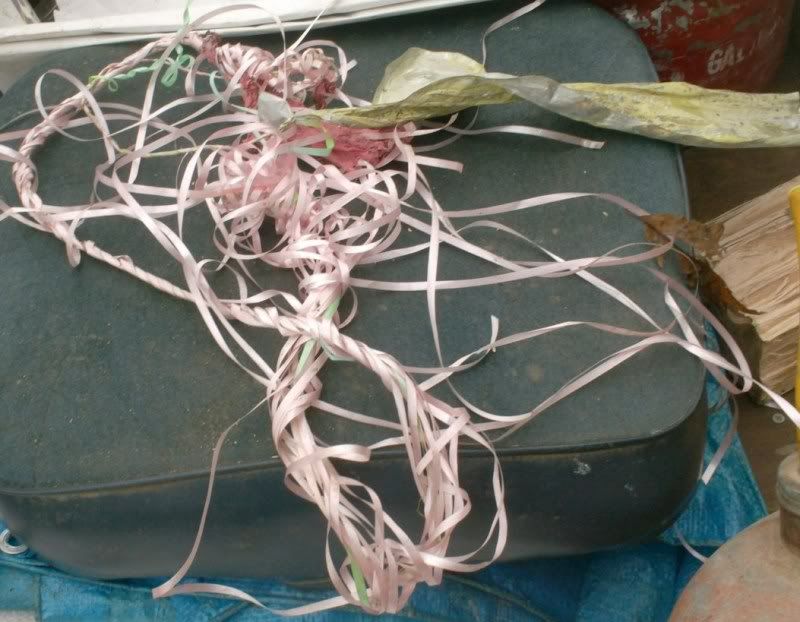 Isn't it lovely?
~~~~~~~~~~~
These some flower pot benches Handy makes out of used lumber. I'm waiting to see what he makes out of my old corncrib.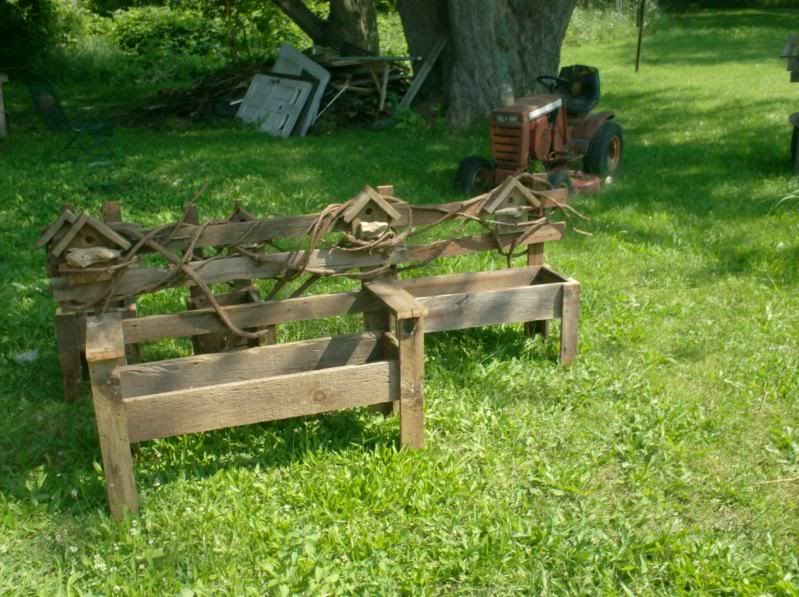 These are a greenhouse favorite where handy works part time.
~~~~~~~~~~~
Splitting some mulberry a few days ago.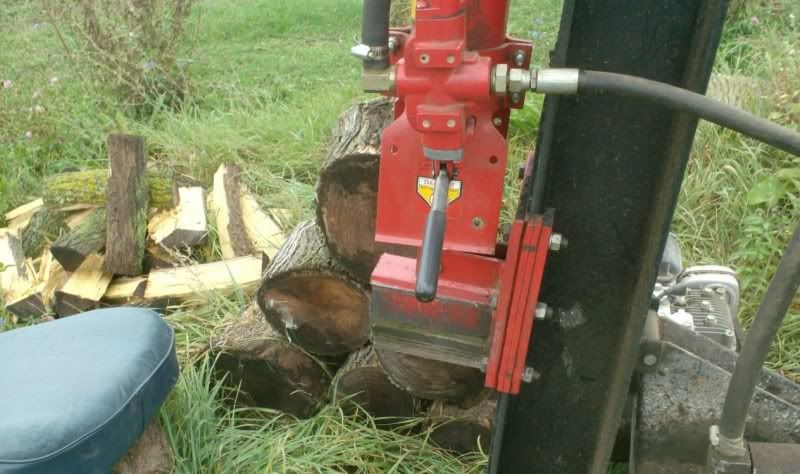 I'll pile it and forget it for four years. It'll take that long to dry (season).
~~~~~~~~~~~
BGKC
Fernan