It's after dark my coming in. It has been a long tiring day. First things first I had to go down to the barn, to do what I had to do, and plug the Leland tractor in for an afternoon's grind. While I'm doing that our car and driver (and foot-girl) pull into the yard horn honking and yelling carrying-on's.
~~~~~~~~~~~~
"Sorry ladies," I thought to myself, "A couple minutes wait isn't going to hurt ya's. Besides, yuo've arrived a quarter hour early."
Getting back up to the house the foot-girl (16th/17th century equivalent to a footman) had Frieda's wheel chair loaded. There was not but for me to help Her Mostess into the car.
The weather questionable as to what we might see or run into we made decent time into Flint's Hurley Hospital. Arriving early nobody ahead of us we were taken right in for a mountain of paper work involving questions and answers done via a registered nurse and social worker (patient advocate perhaps) taking turns. These ladies more than pretty enough I could very well let them console me in the waiting room while Frieda's in surgery next month, (Feb.9th). (sigh)
~~~~~~~~~~~~
Tomorrow Frieda sees our primary care giver for the official healthy enough okay for her surgery. Plus, an appointment must be made for her donating her own blood at the Red Cross if she should need a transfusion during her operation.
Finished at the Hospital the girls were ready for breakfast stopping at a Gilley's restaurant on our way home. Frieda seated beside me the two chaffering women seat across from me, my doing just what come naturally, all their purses lined up sitting upon our table I just had to have a picture.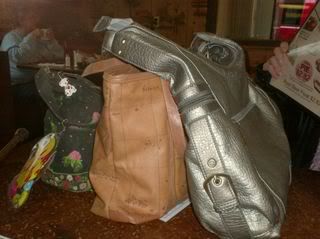 Pulling my camera out of my pocket the girls asked me, "What are you doing….? "What are you taking a picture of….?"
I chirped up, "I just want to get a picture of the three old bags I had lunch with." and three wimmin got a wee bit touchy? Oweeeee! The devil made me suggest that.
~~~~~~~~~~~~
Sure was good to get home. I brough my barnyard tux in for a warm-up. Remove my shoes to replace them with boots or the mud mucking.
Tom called asked me what I wanted help with. Have to grind, I told him. Then he wanted to know if we could grind him his grain into feed also. Yeah, why not that'll fill out the afternoon, and it did too.
~~~~~~~~~~~~
Also put my loaded trash out for tomorrow's trash day pick-up. When I said loaded, I mean loaded. In addition to tubs household and barn trash, there was a couple tubs of silage wrap, all this mixed and matched with cut up tire casings for some purrty top dressing.
~~~~~~~~~~~~
Needless to say it has been a full day bringing in firewood, making my own supper; all to the accompaniment of a splitting headache. I neglected to finish the laundry and left a brand new mouse pad gift out in Ugly's keeping. Dragging butt and yawning wide enough it's a wonder I haven't locked my jaw open. Been a while since even a late supper, I think I want an orange before retiring to the world in ZZZZZZZZZ's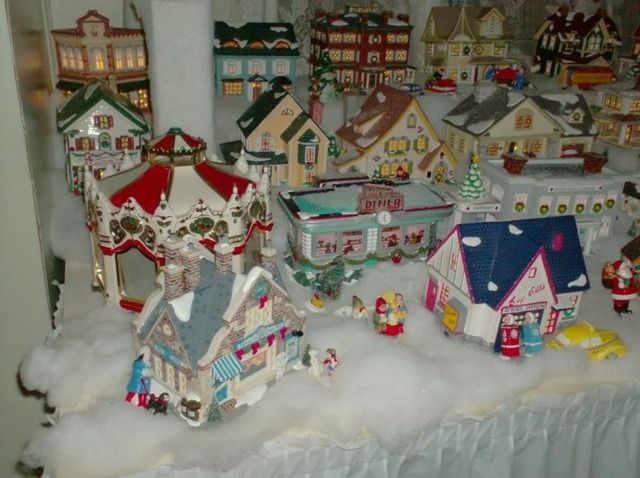 Sorry, this is the last picture I had taken of the spectacular ceramic village. Oddly enough I finished up right back where I had started with the carousal.
Fernan