I can't really complain about our Michigan weather thus far. A couple cold days joined with some bitter winds over the Holidays kept me inside but didn't have anything what critically needed doing outside this time, this year..
Think I'll to try to make some brackets for mounting a seat replacement on the Tall Ollie.
prepared for any deeper snops.
Besides now that the Holidays are past, I need to reestablish some constructive work hobbits.
I get that Ollie out of the shop. I want to get Ugly inside for a couple days to make fix the defrosters-heater. Then I can move in my snow blower for a new bottom. Hopefully the drive chain may be lubricated back into an unrust-frozen usable condition.
Now that I've said it, lets see if I can do-it?
~~~~~~~~~~~~~~
Yup, had some great ideas for plans. But then checking out Ford tractor I found literally found the battery frozen dead. Removing it I took it into Ray's house for a slow thaw. He said he's put a slow charge into it later. So, it'll be tomorrow or the next day we'll find out if the battery's any good. That was so much for bringing tractor home. Tinkered a bit, did chores both ends of the road and threw more stuff out from about this house. I'm making headway but it is slow. This then had been my day. Difficult to measure any accomplishments. Well maybe not? I hadn't accomplished anything making a worth difference around here. Oh well, Moma told me there'd be days like this. BGKC
~~~~~~~~~~~~~~
About these Christmas decorations:
Frieda and I were invited to a neighbor's home Christmas Eve's own night before Christmas.
Seeing these my first time I must have stood in the middle of her living room for at least an hour my eyes taking all these ceramic models(?). Then sitting for another hour I repeatedly got back up to look closer at this or that image teasing my eye. I finally couldn't let them go without taking some of them along with even if only in pictures.
Since I've seen my pictures, I'd really like to try and do a better job capturing better each one of them. And a big plus, her family find and put out the remaining missing pieces.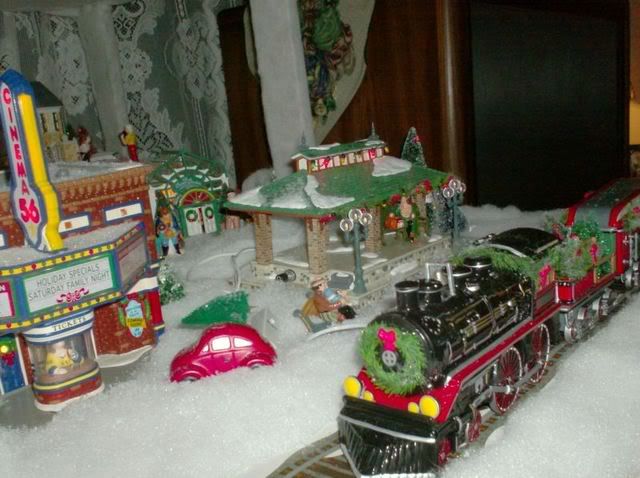 Right now I'm hoping and wishing the elderly lady well and back home soon recovered from her most recent bout with pneumonia.
Fernan