Wet Snow's today
When I awoke the first time I threw wood on the fire. The went to make coffee getting the whole procedure correct had I only remembered to plug the pot in.
Second time I got up we had but about an inch of snow. Since then sloppy wet turning to soup like slush it continues to come down. Road plows look like they're continually moving the slush back and forth across the road. On a positive side state DOY road plows had already knocked two mailboxes off per mile between here and Frieda's appointer therapist appointment.
~~~~~~~~~~~~~~
Having things to do, I got Frieda to PT and back, picked up a couple onions, got to see an actual bicycle crank shaft in person, had lunch back home. This very afternoon I went to see Tom (he's home). Refrained giving him a hug my being so happy to see him. Did offer to I'd appreciate a shared couple hugs from his wife and mother only one wasn't there and the other was to bruised up after her fall the other night. Tom needs open heart surgery but is denied for not having insurance. He's finally been court approved for social security benefits but has not received them, nor back payments nor insurance coverage. He's living on the very edge of life and till denied what he has been granted.
Oh boy, Frieda had filled some trash bags with trash. Imaginably consolidating the trash in three tubs along with spent hay bale wrap I got our trash out. On returning home from one of my expeditions Finding Terry plowing the snow around about my yard I immediately mounted JD and took care of the ladies feeding so Terry could clean the same are I've been parking the JD.
Satisfied I had almost gotten everything done right today I grabbed a couple beers and shared them with Terry for some BS-ing. The next heavy outing is this Wednesday. I must take her to see her surgeon, Stop by Verizon for cell phone upgrade, stop by a couple book stores to get an idea what books are selling for before I set the retail price my own book, and lastly make that last stop (I had forgotten today) for Frieda's required knee bandages. Oh how sweet is, I finished puncturing her last shots yesterday.
~~~~~~~~~~~~~~
Backing the farm wagon up all the way into yesterday It was almost a lazy day.
Started out slowly my drinking herbal tea for an eye opener, making coffee for go juice. I carried in all the firewood I hadn't carried the last night balefire plus three more days. Then shortly thereafter I was on the road for a buy on alfalfa hay to haul in. between hauling ad unloading two loads the afternoon was pretty well ate up. This the hay I hauled home yesterday. Each these alfalfa bale's will be good for two days feeding. I can use three more loads, four to be on the safe side.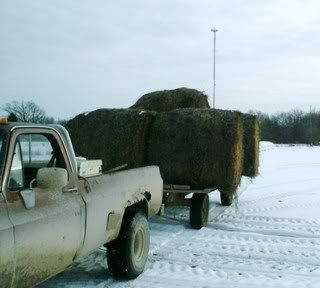 With the time I had left I fueled transportable fuel cans. Took a side tip down to the old hen house and found I have no-less than five light weight bicycles in reserve. Needing only four bikes, for assorted parts, I just might save my favorite bicycle.
Excited with my horded bicycle stash my mind is running wild with ideas as to how I want my quadracycle's building finished. After primary building, it could use assorted lights, thinking fenders, a bench seat, a cargo hold, and even wilder yet an auxiliary five horse gasoline engine.
The engine, an auxiliary engine of-course for hill climbing assistance and most importantly dealing with honest bouts of lazyitedness.
BGKC.
Fernan
PS: The last four days had a Spring feeling to them. Today feels like Winters back.