When I finally got out I had naturally started out behind and finished up my whole day that very same behinder way.
Well I got Herr clink over to her favorite hair dresser's before moving on to my needed day's grind. Whilst driving from one place to another I brought out my cell and celled a Michigan visitor Dan. We didn't talk long or got into anything to awfully deep. The gentleman that he is was in our neighborhood for his brother fixing to go under the knife today. I did notice however he's a very good listener.
~~~~~~~~~~~~~~
This evening's plan is I'll get Frieda over towards Clio for some dime books and wearing apparel shopping, underwear and something pretty to wear. Perhaps I can get rid of another box the adult dieties (depends). Perhaps I may also pickup another bag cat food.
I can remember a time when she didn't have acute thing to wear on while I thought she were pretty enough. Wimmen????????
~~~~~~~~~~~~~~
Frieda's been trying to tell me which cat in our barn cats mob is Charlie. Well I got picture proof positive of Charlie's passing by visit today. Fact I got him and his only surviving sibling sister Sweetheart in the same shot. Charlie's the closer of the two cats to me.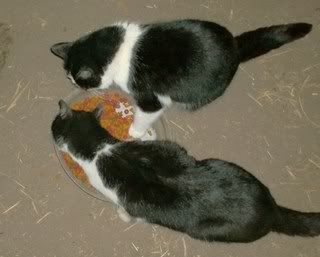 ~~~~~~~~~~~~~~
This is picture of a flashlite what had been used by someone before me working on the house. Remarkably it is an old Everready still remarkably good working condition after I can't venture a guess how long it has laid down there?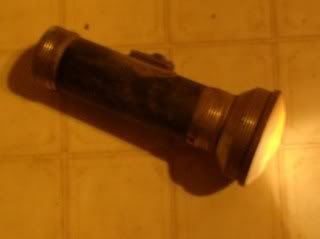 ~~~~~~~~~~~~~~
Pictured here is a desperate attempt at catching some free spirited possums in live traps. Note the chewed holes in silage wrap intended to keep air out of these precious bovine food stuffs. The wind from the south or the direction of the barn and our cats, I baited each trap with the smelly good sardines splitting them three ways in the only traps I could find what weren't frozen down somewhere.
~~~~~~~~~~~~~~
What a pee poor day it was for me accomplishing anything. Other than playing some an innumerable number rousing good solitaire card games, I for one brought in a goodly pile of firewood plus filled the city slickers shopping cart as well with more odd sized and shaped pieces firewood. BGKC.
Fernan