Spent good part of day baring bike frames. Of all the parts I've got mike has come up with a better idea for my jack shaft. I think I've got the way figured out for crankshaft/jack-shaft connections. It'll take some imaginative laying out the jigs to take a the pedal-crankshafts to a grinder for some close machining. Coming up one crankshaft short I could not believe my luck when I look to my left coming out of Bro's hay-yard headed for the farmyard. Out there I could see parts of one or two bike frames. Checking one of them appeared to have decently working ten speed crankshaft. I'd have danced if it were for the slipping a sliding on he weather covering the scene in snows.
~~~~~~~~~~~~~~
I didn't take any effort upon my part to mess up today's dinner. I had neglected to set the stew out in the wood shed's cold. If we'd used the pot I wanted to use, I wouldn't have missed it. Frieda and her hidden crook-pot isn't any help to my crack-potted missing seeing something what ain't out in full view. Today's chicken and noodles is cooking on the woodstove. I van see it, smell it from here.
So, anyway, the barn cats faired better than I dining on my beef stew. What saddens me is my being denied turning yesterday's efforts into a hobo stew. Oh well, cats got to eat also.
Cows off their feed in this 36* heat wave I didn't feed them tonite. To make it up I've got to be out early and see them fed before taking Frieda to Clio town for her PT.
The parts purchases of the other day I may return some of them possibly making one exchange or perhaps one temporarily additional purchase.
~~~~~~~~~~~~~~
Had this WoolyBear walk over our deck today. Closed mouth it didn't reveal any credible information as to what its immediate or spring time plans might be.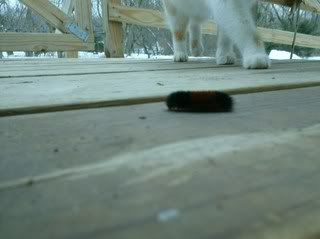 BGKC.
Fernan