Waking up was so hard to do. I know I was moving all day Yesterday. This then was so unreal wakened by a Charlie horse, in my right calf, before daylight even. What'd I do that was so athletic, I should have stretched out after yesterday's all day run. Yuk!
It didn't get any better. Only middle of the night show I hadn't seen was on. The Partridge Family movie was playing. This viewer along with millions of other's could continue living without it. Before I run out of predawn light I got to say I thought Susan Dey was a charming young lady in spite the movie's suggested put downs. Oh, I thought the dog was real for all it's twenty seconds or less it scampered about the ___ set. Then I ran out of words to say.
**********
This is the creek cutting through ice. I've often referred to in my journal, flowing along for three/four days, with melting ice and snow water flowing west though the barnyard.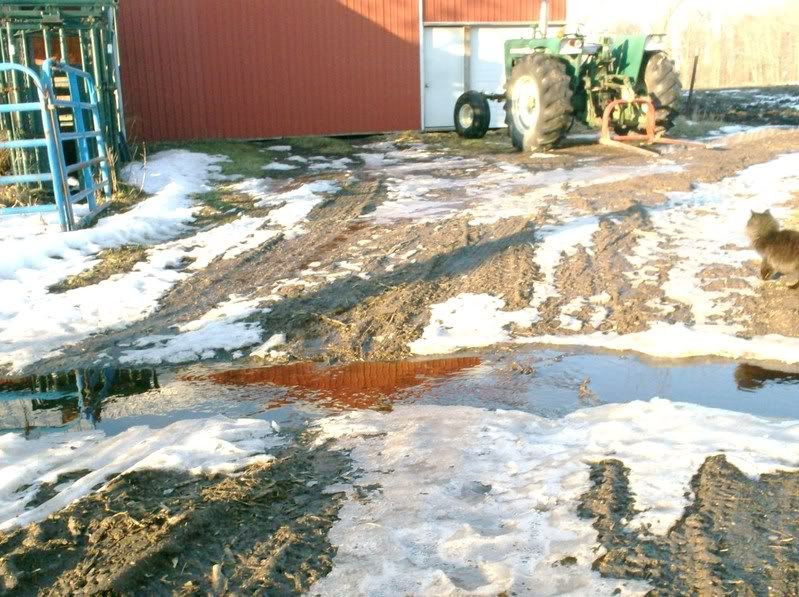 This is another view same creek with the morning sun behind me. Stooping to take one more scenic shot of the creek's meandering a snow drift. That was fun enough. Trying to re-stand I had me a walrus like time getting back to my feet. That's something a walrus hasn't no hope of ever doing. (snicker)
~~~~~~~~~~~
Went to my physical therapist as prescribed Doc. Put into a room of my own so's I could un-dress the top half my Athletic Atlas physic for treatment. Afforded privacy to protect the masses (4 wimmin patents, 4 techs) I settles in my room, First young lady would come and go my room with instructions, heat pads, encouragement she had asked me, "Is there anything I can do for you?" That was a loaded question if I ever heard one……..trying to casually look as looker up……(sigh)……..looking down her…….. Oh, never mind. I better not go any further there. Hubba Hubba!
~~~~~~~~~~
Putting some time into the shop having to clean the mating surfaces the 4020 JD block and head I had the head ready to go. Going next door I had chop come over to help me guide head into place. Once the head was set I I has to excuse myself, thanked Chip for helping me and went home. I had been getting sicker and sicker the last two/three days. I had had enough, I headed for home. Sick or sick, while I had abandoned JD at 3:15 PM I still had things to do. Chores as easy as they are to do for a few more days (it ain't mud yet) were naught but trouble. I managed to do everything wrong unwrapping them. Oh well.
Getting into the house, taking to sitting a spell, Handy cells me, Can you take me to VG's (local Crossroads grocer) I don't deny him, His 86 yr old mother, 11 yr old son, and himself all on medications, I worry about them my even though I don't know her all that well (a recluse), her and I share a common respect for each other. Sometimes only allowed second hand taking an interest in another person is all what may be done. BGKC.
Fernan