Cheeso-pete, life can have so many snags along the way.
This has been one of a kind Holiday celebration, then aren't they all, I took it easy all day yesterday. It doesn't help farm life is not without its perils. I don't know how many times I've spent a holiday fixing fence, even mid-wifed once, and today looks no different. A neighbor near out of firewood has asked me for the use of our splitter today. He don't know it yet, but I'm going with it.
~~~~~~~~~~~~
Backing the rein deer up, found under our tree a brand new nite shirt. Thank goodness it wasn't another lacey-nightgown. Found a set of long stemmed wine glasses. A most apropos gift I'm sure is suggesting I get down and bottle all those fine wine full jars what have quietly awaiting my attention. Got a, get this, a tin box made in China filled with cookies baked in India. They are an international timely arrival, our just having run out of a tin full of Danish butter cookies. I got me a new pair of extra heavy warm winter socks. Only one pair? Are I supposed to just wear the one pair for the duration? Another gift was a knit stocking cap. Now that's the first thing I may put on, every morning, its covering everything.
~~~~~~~~~~~~
I helped Frieda with this morning's cooking carrying my own breakfast in out of the kitchen.
~~~~~~~~~~~~
All the mornings fuss over with, the wrapping paper and boxes saved with the kindling, I realized I had gotten a 21 battery package and nothing to put them in. Imagine my disappointment I hadn't found one them new fandangled electronic wizard's wand's. I guess I won't be going to Hogwarts School of wizardry for my High School equivalency completion course for my GED diploma cause I'm improperly improperly equipped. And, I was looking forward to meeting the infamous Harry Potter.
~~~~~~~~~~~~
Well I did it. I got outside and fed my morning chores. When I can't navigate my own driveway I'm sure to be another statistic out on our road. So here I set no new toy to play with until I've broken it.
~~~~~~~~~~~~
Talked to number three son. Today. He's still out of it. Got some talk from him complaining about holding phone up to his ear, needing a speaker phone to make his life easier. Yeah, sure. He told me he'd been in a Kalamazoo hospital and they had kicked him out, and that's how he got home. Truth is he's been in hospitals nursing homes up the Lake Mich. Coast. No Kazoo. I asked him about how he was coming with his exercises and he tells me does them once a day. I can believe that and then and when he does them it is likely with somebody standing over him encouraging him through the motions. He thinks his wife's grandmother is still alive and he's expecting her home at anytime. Yup!!! Everybody may get to be just as happy as he is provided they adhere to a very strict diet of Mt. dew pop, pot, and drugs. His stomach, upper and lower intestines are eatened up and in knots and his mind is contentedly dwelling in La La Land.
I can't do anything for him. It must come from within himself.
~~~~~~~~~~~~
Here we are, another photo of the ceramic village Enjoy.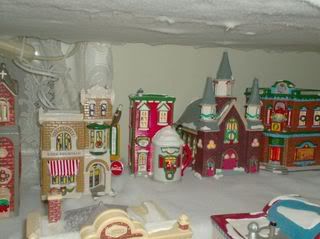 Calling it a day. BGKC
Fernan