I'm sure glad it's our shortest day. It seems like I've (all of us) been getting less and less done every day these last few weeks. We're always quitting early to do the chores while it is still light. Winter's official start today, we've already burned a cord of firewood. While I want to fret about the wood supply disappearing faster than I'm thinking it should, in reality warm weather and the end of the heating season is only about fourteen/fifteen weeks away, and the firewood will likely last right up until we wont need it.
I slept so soundly here the iron dragon breath's cooled down going unfed all night. Now I either bare patty foot it out for my ash bucket or wait a couple moments longer dressing to deny Her Mostess another hearty laugh. Might I add, I've never forgiven her chortling at me in that once upon a time "Cabin Far-Far away" episode.
While I dressed I sent a signal down to the dungeon dragon. Holy molly this fat man I didn't have to go down there and kick it's are to breath a little warmth up into the house. The first day of winter what the heck. Running water will be appreciative it's freedom grandly appreciated by this one and all.
Warm ashes sitting on the concrete step offering their warmth for a little while, I'll ignore, my having to be getting out of here. This is my AM out of here start of the day……….
~~~~~~~~~~
Cables replaced on battery/starter project finished. Radiator cap and new custom grip ready to assemble.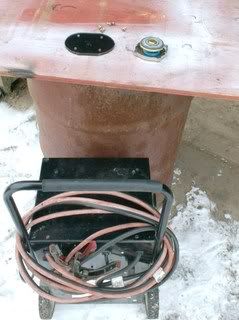 Fuel cap project finished and installed..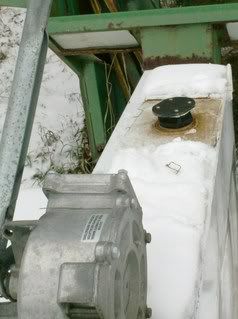 Two projects done. Sure as I'm breathing I've more to work on.
As for the Tall Ollie, we've gotten the front-end's steering adjusted. No simple task. Until I remembered the hired man on the farm from where this tractor had come from, say something about this tractor's steering was awfully squirrelly. That I should have a Hell of a good time keeping it going straight. And something about driving it slowly to keep it on the road. Well as I had reassembled the tie-rods to the preset tie-rod ends as I had taken all the steering linkages apart, something just didn't look right to me. On measuring the toe between the front tires I found the front wheels toed out FOUR inches. Oh Lawd. This took some thinking and a whole lot of measuring. It took a near full inch shortening both tie-rods to bring the front of the wheels into a half inch toe in. An eighth of an inch toe-in is ideal. However as this is an old tractor we set the toe a little tighter for the tractor's shock adjustments when the machine has been put back into use. We've had a lot of nuts and bolts either loosened or totally taken apart. When the front wheel take some rolling into, bouncing off of uneven field conditions, each time one them wheels take's such a hit, that hit will automatically widen the toe over time. And we can check it again later-on into the haying season.
~~~~~~~~~~
I am pissed, and I've clearly a dislocated nose. Three times I've talked to Frieda's daughter asking her to take us, her mother to the knee doctor tomorrow. Three times the ingrate has turned either her mother and I down. If she were ever adopted out? Why oh why did we ever take her back?
I've a whole bunch of why's I asked her help. Big number one I wanted a better driver taking us to that appointment. Second and equally as important as the first one, Ugly's brakes are far from up to par. Out here in the sticks I poke along and Ugly can make slow and easy stops. I would not want to expose Ugly to a heavy trafficked a-panic stop??? Nope, no way!!! For third reason, this girl has received when asked of me, recent financial support. As much as she's asked for? As many times as much as she's borrowed from us? She could damned well pay back a little interest favor. She isn't even working so she wont miss a single day's work or pay. I just don't know? Maybe right now I'd let somebody/anybody adopt her merely for the sums what I've invested in her just the last three years.
So, we worked into the dark of night to find the source of an electrical short in the van. Thankfully Ray found it. To make a quick fix, an orange and black wire had to be pulled out of the fuse block. Who needs locking door locks anyway. The van chariot awaits my lady tomorrow morning. BGKC.
Fernan