Resolutions
Yeah, that's right. I've already strated keeping at least one New Year's resolution. I'm going to treat like I had said with throwing a coin in a wishing well or fountain maybe or beter yet liking a Birthday wish blowing out the candle kind of wish one mus keet to himself or it'll fail to come true. I've even thought of a second New Years rsolutution. Ho bot! I'ge to stop already. Why I haven't made a New Year's rsolution in my entire life. Interesting I should want to at this late date in my life. These resolutions should be easy to keep and entirely out of the main-stream of things done around here, between us for at least the last twelve/fifteen years. I shall see how it goes. Can I do it? I've thrown down the gauntlet! Now, it's up to me to see them through. Oh crap! Me and my big mind field!
~~~~~~~~~~~
Oh, what a beautiful morning. Oh, what a beautiful day. It rained all night melting away our one whole inch of snow. The ground was baren some six hours I had walked on it today. Tom asking to borrow the wood splitter, I did him one better. I invited myself along with the machine. Such a lovely day I brought the Cushman out for the tow. I had a splendid drive going to Tom's.
His wood in a barn, it was well protected from the elements and so were we my backing my machines inside the barn. I thought we'd never get the cussed log splitter started? Had to open up the aitcleaner and prime the carberator. Then it half assed run once we did get it started. Opening the primary carburator jet improved the engines performance on a richer fuel mixsture. Worked so well, I gave the primary jet's feed on the Cushman as well which improved the Cushmans performance for my drive back home.
~~~~~~~~~~~
Here's another ceramic village snapshot. Enjoy.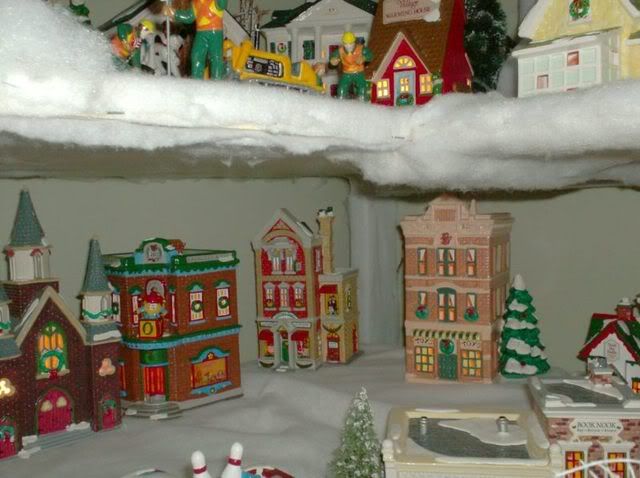 While I've not complied a long list of tasks it has been a busy and full day just the same. And more than my time to retire. BGKC
Fernan