Under cloudy skies it's rain, and extremely cool.
Dependent upon the elements I can't be sure what I'll be doing at any given hour. So much for making a tentative list of what needs doing today, that I couldn't keep anyway. A general over all synopsis includes watching the ladies (hopefully no more problems the likes of yesterday). Ugly's still sitting in the driveway where I left it evening last. Got a whole pile (six of them) JD 7200 corn planter seeders to reline. Need to check Ugly's tailgate innards out so's I can close it. Do want to reconfigure Ugly's total usefulness with field fuel tank. Reattach Ugly's tool box and restock it for field maintenance supplies and tools. So much to do. To many days forecasted rains we actually need. What to do besides cuss? It's a can't win for losing, OR is it lose for winning, situation personified.
If we're going to experience extended days of rain, could very well be a good time to move a couple yard tractors into shop for repair and maintenance. The Crapsman needs carburetor cleaned to start, Workhorse hasn't run for at least two years. AND, oh balderdash, may have to grind grain again. That's always fun in the rain. (hahahohohehe) Looking like another grand day in Shorthorn country.
~~~~~~~~~~~~~~~~
Picture these:
Ugly's all back together again for the most part. This is the port side. Ugly remains just as ugly as ever, but is it Calico Ugly now or what?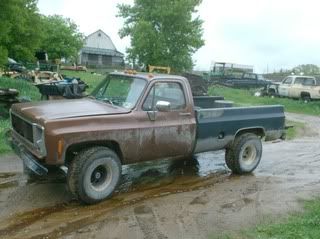 Ugly still needs a few details taken care of tomorrow maybe.
Ugly from the far corner looking at the starboard side.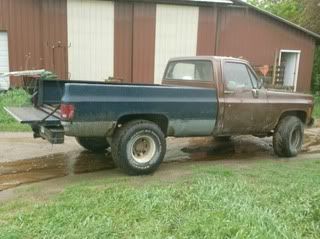 The tailgate still needs its latching mechanism oiled and loosened up, as well as ground strap from the frame secured to the box.
This is my sure enough dependable fuel switch-over valve between the dual tanks. No worries about an electrical switch what won't work anyway. I like doing things with a positive attitude.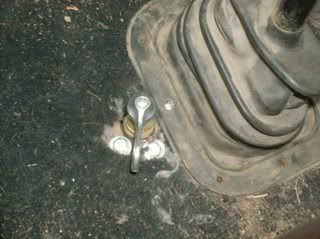 The valve handle pointing NNE is taking fuel from the portside tank. Took us some time trial and error figuring it out how to draw fuel from the first tank, let alone the other one. We'll take on that second research project another much drier day.
~~~~~~~~~~~~~~~~
And: The herd is growing by leaps and bounds. Total count is ten calves today the last one born sometime this morning. In spite of the weather the ladies have been doing an exceptionally good job drying their calves, even in this inclement weather. All of the calves are so frisky I can't tell the latest born from ther rest of them.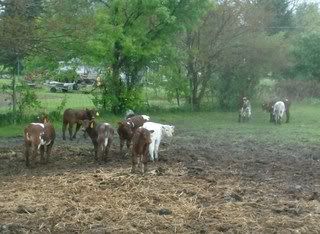 Shortly after I had taken this picture, the designated baby sitter came charging in placing herself between the calves and myself. Animals can be so entertainingly funny. I can't help but smile at their antics, even the mild mannered ones. Yes I said designated! A many the time when the cows are pasturing a near mile from home they'll leave their calves behind, taking baby sitting turns with other mothers to come up for water. Really!
~~~~~~~~~~~~~~~~
This is being it for today. With but one rainy exception we've had an inch and quarter since this rainy spell has started. So, let it be posting this entry earlier than usual I want to get into something else. Maybe some sketching or writing another telling story, while getting all snockered up on one beer cooler. (one beer is all Doc will allow me to consume during any one day). Meanwhile….BGKC.
With high hopes…..
Fernan