Sunday Fun
Spent my afternoon playing with my azzkicker. Had it working a couple times after a fashion. After checking all the components over and over again between several tries to get it right.
I'm thinking I've wired in the relay components on the wrong side of a double pole double throw switch for the motor's operation. Looks like it's going to be an evening of making new wiring schematics. Rain will postpone any more immediate azzkicker playtime.
~~~~~~~~~~~~~~~~
If the rains stop and its nice tomorrow. It's to fields I go to work ground and plant.
~~~~~~~~~~~~~~~~
Understanding there's a fortune to be made in pork bellies I've taken steps to broaden our agricultural base. Starting out small with two pork bellies this year, who knows how many I'll be up to next year, four pork bellies perhaps doubling production.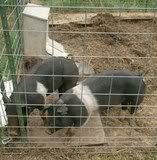 ~~~~~~~~~~~~~~~~
A bit of catch up. Seeing as how one of our cows had lost her calf shortly after birth Ray picked up this Brown Swiss dairy bull that same day from a neighboring dairy farmer. The cow and calf bonding without difficulty, both critters are happy, given the cow something to do taking care of this calf. This mixed breed fits well into the scheme of things around here, a little bit better color wise, without any black and white explanations.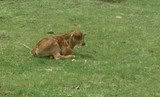 ~~~~~~~~~~~~~~~~
On the lawn front or back or either side or across the driveway, I'm not happy with the Damned Crapsman lawn tractor. It hasn't run for a year and a half. I'm really not looking forward to winching it on to the low mobile trailer for shop carburetor repair.
Why the shop? Concrete floor! If I drop something it's easier to find on a cement floor than in a barn's dirt floor.
~~~~~~~~~~~~~~~~
Home almost earlier than usual I'd managed to bring home more cut up tire remnants for this week's trash pickup. I got some almost over do paper work done and enough letters to go that'd break a mail carrier's back. Then I attacked the laundry basket. Laundry in the washing machine I tried to take care of one more pile of paperwork. It wasn't to be, my mind slipping something pitifully. I gave it all up. My last thought, "Sleep looks awfully good." BGKC.
Fernan