Leaving just after light was home before twelve noon. An 1 1/2hr going, an 1 1/4hr hooken them together (including jockeying motors for 2 bat jumps), 2 ½ hr return trip, ¼ to divide. Was a four and a half hour round trip door to door. The trucks hooked together there, taken apart here. Trucks running so good together, a SMV on the last one, I drove them home via state roadways all the way. The Battery jumping was the craziest, jumping the Dumpy truck, then Greene lights on it's battery died, Dumpy truck returned the favor. Thought I'd near never got that front center bolt through all the holes, alignment so touchy park letting Greene roll a mere I/2" was a pain in the rear. Finally got it throwing a 2x4 under Greene's front tire. Sheesh! Why can't things just be done easily.
A shammitch, slaw and grape juice for lunch. And in as much as I was no longer out terrorizing the rest of the motoring world, I put in shop time. 1618 Case skid-steer's flat tire fixing inner tube here, an Ollie to break down the tire bead, I tried to put the two together. Bro' had brought home the most useless inner-tube I have ever seen. I don't believe there is any way, shape, manner, or form that'll let me install the craziest long metallic to be bolted down valve stemmed abortion I've ever witnessed. That inner-tube has got to be exchanged for one that'll fit or at least work!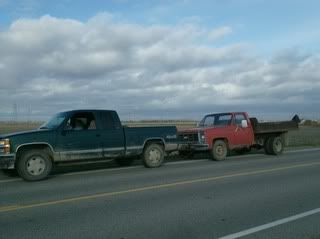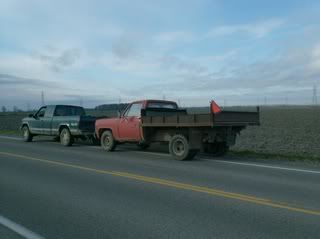 Here they are Greene and Dumpy truck all hooked up. We hadn't traveled a half mile my checking it all out. Checked it out again another four mile down the road as I was about to pull out on State Road. In the back ground is just mere sample the hundreds of square miles devoted to raising sugar-beets. I believe there're three Pioneer Sugar Processing Plants in Michigan's thumb area. So many sugar beets grown in this area there are sub storage stations to handle and hold all the yearly crop raised.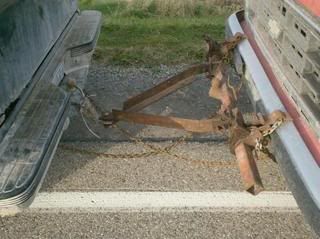 This is the towing apparatus I'd, saved from the clapper. I've rigged it for either pushing or pulling (so to speak) upon a motor vehicle's front or rear bumper. We've covered a great many miles together over the years. Been right handy!
Home, in, and contented.
"Rainbows"
Fernan