The earth extra crispy this morning Fillip and I went looking and hauling hay rejects from the near by neighboring dairy farm. Their yonder hay yard frozen over I managed an extra heavy load eight wrapped hay bales. Now we need fix that special place to feed them out free choice.
Making up a small shop list to do's we we finished up the morning hauling in another load shelled corn. Swinging by the second elevator for a weight slip and a couple sacks calf primer the fall calves are being about to be weaned off their mothers. Then it were lunch time.
~~~~~~~~~~~~~~~~
Our empty appetites replenished with our list in hand we frighten the shop into worrying what we were about to do to it. First thin I took picture my swinging barn door holder opener hardware, as I had promised and from a couple slightly different angles. Believe this, I was told it'd never have worked.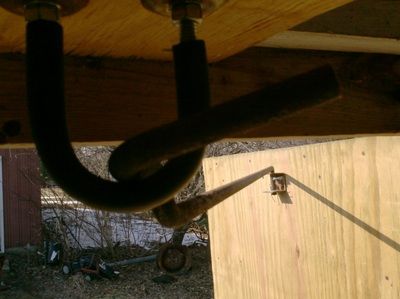 Then as I worked on finishing the Oil-House shelving, nothing fancy, really liberated roadside cast-aways; Fillip extricated the little emergency farm generator and thee gasoline engine powered air compressor. These machines reassigned sitting in waiting places we' started making more shop space liberating some long lost space cluttered with flammable fluids.
This new shed can also house the infamous azzkickers
We get that Oil-House swept out we can commence to move a lot of serious five gallon lubricants into it. The paint supplies can wait a day or two, these moves to fill another wise slow day or a stalled out mind (mine).
Our next urgency involve moving the Greeny truck and the 4010JD onto the shop's work floor.
~~~~~~~~~~~~~~~~
When 5:00 PM rolled onto us it was time I was thinking to come home. While my stamina held out exceptionally well today, it was about half way through our evening chores my energy just seemed to have instantly run out. I chose to come in leaving Fillip to close the gate after himself. Now that I'm firmly settled in my chair, I don't care whether I were to move again this entire evening for anything.
"Rainbows."
Fernan