3:00 AM
Wide a-wake and in no hurry to get going. All I wanted was more sleep. I'd earned it. Desperate I did a first when I had at last had become oriented to the acted I had been slapped a-wake in my sleep. I popped a brewed hops top. Thought was it relax me so's I could sleep.
Wish I could remember exactly why I was slapped in my sleep.
So dead tired of the pressures, on demand repairs, and long hours to save and bring in a hay crop saved, I just might have talked in my sleep. I hate doing that. I don't know how many times it has gotten me into trouble up until now? Anyway…..
Fast asleep dreaming within the good feeling caresses moving up and down my back, I'm thinking I might have had wrongly said something. "Gosh! That feels almost as good as when my wife does that." I believe it was about then I suffered an un-crowed reality wake up slap. Had to be a slap, the stinging sensation left felt upon my burning derriere. How is it I know it's going to be cold shoulder day for breakfast, lunch, and supper.
~~~~~~~~~~~~~
Rains been forecast today through the weekend. That'll slow done the sudex harvest. Regardless, I can use some eased up activity affording me some even lighter activities measure of rest. Checking afternoon forecast prediction's 100% rain today. Regardless I braved the wet day's elements emptied the cargo box. Mostly it was full of lost dunnage. Putting all that stuff away made bigger the box's emptiness. What I didn't put back into the box I'll get tomorrow and the next day to put away rather than to collect. Been lookin' for another hay wagon wheel. Ain't found one at all handy around here.
~~~~~~~~~~~~~
It has come to pass around here slower driving is the rule these heavily foliaged roadside days. Been either slowen or stopped for deer and turkeys crossing our local roads all to often lately.
~~~~~~~~~~~~~
Holy smokem's somebody reached into my Ugly's inter-sanctum and made off with my crutch bag of papers, mini cigarette roller, and pipe tobacco. Worst part I've got an idea who it was. Looks like time for another neighbor to neighbor discussion with his dad.
Doing our laundry….....as I have many days in the past only this time it also included my Gilligan hat. And, always shrinking thrown in the past's clothes dryer. This time her Mostess insisted I find something in my head size to pull the hat over rather than thrown in the clothes dryer. Fortunately I found the ice-cream bucket just the empty relative right size including the red strap handle an assistant chin fit holder-upper.
Now it wasn't easy pulling that Gilligan hat down when I couldn't see what I was doing; and, the crazy woman sat there and laughed watching me. I get no respect.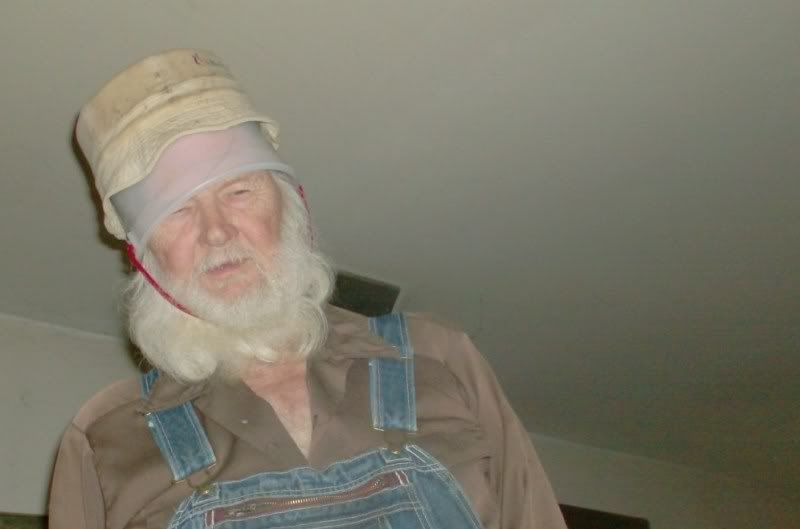 That hat taken care of still had more laundry going, while she continued to laugh her a$$ off. Proof, I get no respect! BGKC.
Fernan