First thing this morning my expertise was required midwife-ing this pair.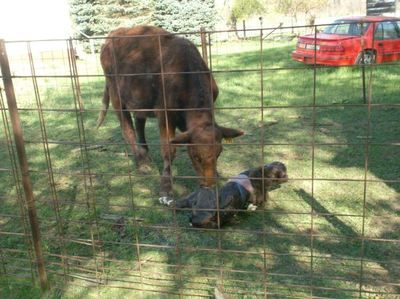 The mail delivery brought me a letter wherein was a note wishing my written approval for my book's colored sketches. Sign, stamped, and mailed on its way my book's reality is ever getting closer.
Taking an early lunch, we hit the road for the shop and the taking some Ugly's problems apart: leaking water pump, timing cover oil leak, and researching ignition switching problems. We did manage to fix timing cover oil leak (I hope), modify water pump for Ugly's application, and perhaps steadied ourselves upon a new method of Ugly's ignition wiring. Late afternoon hitting my wall, we were calling it quits until we returned home finding 919 cow experiencing some discomfort. Fillip and I rounded her up putting her into sick-bay. Bro' celled he was on his way to put his hands into the delivery. This was our third calf born today.
The rest of the ladies fed Fillip and I ventured a way's out to check on an earlier birth. This was the 2nd afternoon birth today.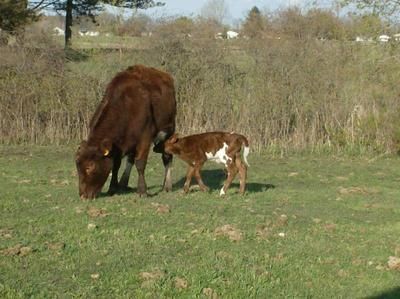 Another half our chores left to go, it'll likely be after 8:00PM before this day's finished.
So it was we had a very busy day, an even productive day. (I'm happy) At last we're bouncing calves everywhere.
I expect all of tomorrow will be even better.
"Rainbows."
Fernan