…in the ranks. There they are yonder bunching up just in the right place where I might see them out beyond the morning's grain grinding equipment. Their pasture they've eatened short, with a dislike feeding on dry pasturing, they're displaying their unhappiness what's offered. Well they ate it all off. Not me! Fall has come around and they certainly aren't accepting the inevitable easily. It'll be this way with the lot of them until we get our first snow. So there ladies!
~~~~~~~~~~~~~~~~~
Frieda and I both woke refreshed after a good night's sleep, as if that were going to keep us on an even keel. Yeah sure. Scarcely daylight she's wanting a trash bag. And because I had taken them out of the front foyer, putting them down in the back cloak and boot entry, for the winter firewood, she got her back up. As true to form, as agreed upon our original marriage contract negotiations during those days of spooning she ranted her piece, calmed down and forgot it. Good Girl!
Glory be, she'd packed up three more boxes good clean clothes for the church. I gladly dropped them off at the same time I picked up the supplements. This is probably the first time in weeks I've gotten a multitasking correct. (grin)
Okay I did my grind as needed. Now I GOT TO REMEMBER to fix that darn tractor tire for sure before it becomes unfixable when I'm pressed needing it. When I left it (tractor) I had left it jacked up. Hay to mow this afternoon. Maybe fix tire tomorrow. Bah-humbug!
Holy smokem's Bert. I finally figure out the Cushman throttle linkage. Now all I got to do is figure out how I'll make it (the parts) to work properly. Found the solution in one more pee-poor pictures off the internet. So, sitting here having eaten my dinner, I'm thinking out load, "I know how to fix. All I got to do is take what throttle linkage apart again without loosing another nut?" Frieda pipes-up, "You're having a tough time with your nuts." and irrespectively laughs. …….To this day I still haven't forgiven the existence of that basic little black cocktail dress in navy blue!!! (grrr)
~~~~~~~~~~~~~~~~~
I didn't mess around. I mowed the whole gall-durned field. I'll be busy for many hours tomorrow raking that whole field into half the windrows I'd made today. It's going to go something like this, while it had only taken me three hours to cut it, it could well take my three times as long to rake it or better than seven hours. I've easy made easy for Frieda will know where I'm most tomorrow's day. (grin)
Moving on, the mower brought home I took a tea with out a crumpet. My palate satisfied, I moved myself on down the road and delightfully tinkered with the Cushman for an hour and a half. Glory be I made some headway. Even enjoyed taking it apart and putting it back together again knowing it was finally coming along again.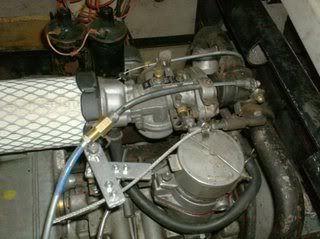 Gee, I wish I had put a quarter in a piggy bank for every time I either mentioned or wrote, "I've got it figured out." Why with all that accumulated money we could almost afford another day trip to somewhere and back again. (hehe) BGKC.
Fernan