…Got plenty choices what to do. Personally all I want to do is put the Cushman back together. There are rumors and rumbles of rain today. Come on rain. Rain will likely keep me inside. The Cushman's inside. (hehehe)
Gosh, October already, the Fall's rainy month here already and I'm still into summer stuff. Yeah, got more hay to cut, rake, bale, haul, and wrap. Have to either cut some replacement fence posts or sort some out of a pile railroad ties. There's still plenty more downed trees to be cut for winter after this one's firewood.
Now, I've got fall chores to do, one like filling those areas in the house that will hold it, firewood stacked in the house ahead of weather. The rainy season is about upon us again.
By the time I left the house the light show and the boomers going with it had passed east and out of sight. The clouds were breaking the sun was shinning brighter all the time. As I wanted it, it was the Cushman and myself all morning long. Trying to put it together in the chassis, after awhile I gave it up. Almost coming to speaking words my Mom would have cuffed me for I didn't. So, I removed truckster's seat and brought the engine and what more of it had been put together back out into the better light of day to work on it. The engine out, even freely hanging wildly in free space I managed to safety pin the throw-out bearing to the clutch fork in the bell housing. Next while the engine was just hanging around I put the transmission, it's in-put shaft, to the bell housing wiggling it all the way in. Then it was my dinner's break time. This was a smooth move Clyde. In addition to tightening the pressure plate bolts after dinner. I've also decided to make a couple inspection covers Cushman Motors had never supplied, nor used, as far as I know. These additions to keep dirt out of the bell-housing and the parts therein.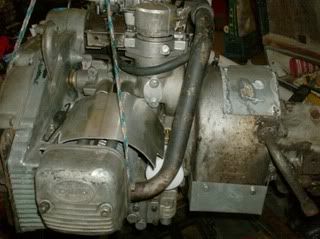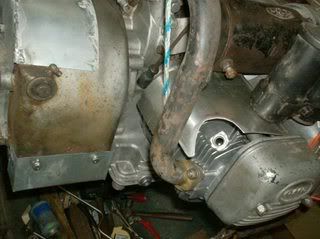 BGKC.
Fernan