For dew drying starts, I been informed the need for some traffic cones to mark airport runway lights and/or pylons? The 554 baler belts repaired it is going to be a go-go day for it once the dews dried off. Here's hopeful making something of all the hay what's been cut. Next question is to cut or not to cut more hay today and tomorrow. There's talk rain on'n'off starting four days Wednesday. My having lost faith in professionally weather guessed weather reports I've taken to looking at live national Doppler moving pictures. What a mixed hot'n'cold bumper to bumper mix of fronts headed our way my own guessing has every bit the same chance of being as wrong as the truly educated guesses. (sigh ("I can't win for losing.")
What can a body do? Hay balers broken down since last Wednesday cutting hay has been modestly curtailed. Replacing the 554's belts has been, what I'd call, hand'n'wrist tiring aching make process.
How about some real duck sauce to dribble on my repairs…:
Now that the belts have been installed, I found I-net instructions for all the proper ways to not only lace the belts but also directional rotation installing for optimum performance in lasting use. While I may complain, as my prerogative, those same instructions weren't on the I-net the last time I was involved in such arthritic fender paining activity. Just goes to show you how the information highway has expanded the offering these last ten years. I must put myself in the habit of more thorough research heading into any fixen or inventive behavior from here on out.
~~~~~~~~~~~~~~~~~
My reinstated mind altering drug is already working. I've noticed or the better some positive changes within my behavioral, anxieties, stresses'n'strains, grumpiness's, mad-on's, and (saving best for last) less desire to reach for that all important nicotine fix.
~~~~~~~~~~~~~~~~~~
Now, for the rest my Tuesday adventures:
Herding Ugly, I had coffee over to the Crossroads and got an earful what's been said about my behavior during recent weeks. (laugh) I understand that crowd has had a good time listening to my misadventures.
Going on from there I marked missing airport pylons exposed hardware's in the tall grasses with traffic cones. Then it was home to take the sorry new finish mower off the Ford tractor and hook it up to the hay rake. Trying it out I raked a cutting bordering upon the bottoms out bake. Was about here during my morning hours Handy calls and wants a ride over to the druggist's for med refills. Sheesh, I had just gotten back from there having passed both ways the crossroads for the airport.
Okay, in order to get the most out of the extra trip I backed into a parking space opposite the combined mall entrances. Just for some handy medication refills did they have to wait until he got there? Regardless I took to people watching whilst reading some of James Harriet's "Dog Stories." As for the people watching that was a mere bust of time. No silly arsed shenanigans between parents and kids, no emotional displays between young lovers, not one passing potential Miss Whatever or a promising playboy centerfold candidate. What it was, was a whole hours lost hour waiting lacking scenery.
~~~~~~~~~~~~~~~~~~
Finally making it back to the Airport I took a few pictures of the busy coming and goings. This airport so far inland the closest image of any tough security measures was on single padlock on this hanger door.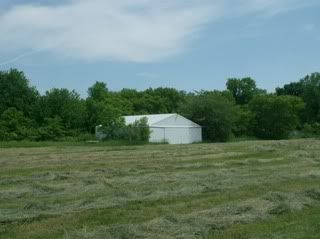 You've heard and seen some the 7?7's, here's a 9?9 standing by prepared to go into service,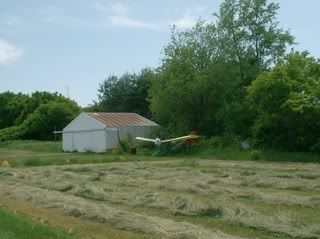 This picture is a representation the interior this modern airport's waiting room. You'll notice the absence of terminal seating. That's because passengers entering here have little waiting time before boarding's and take offs.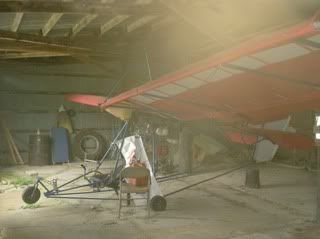 The last picture of this series is of a one of its kind 9?9 almost ready for boarding right after it's tires are fresh air for take off. Notice this all takes place under a modern weather sheltering cover.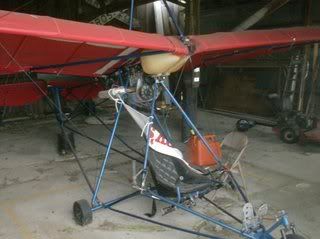 Perhaps more pictures coming my next airport working visit or be it the last one after that. It'll be a mind's memory event to even remember to take more pictures, particularly of all those facilities I missed in this series.
~~~~~~~~~~~~~~~~~~~
Returning home It was tea time, then rattler time before I was off and running the 554 baler over the down acreages hay what had patently waited A baler fix. Getting on so close to 8:00 pm which it had become by time I walked into the house, I wasn't taking another hike down the road for a mowing machine a couple three guys could have combined their heads together and figured it out it been a right thing to do. Balderdash, If they decided they needn't do anything, why should I continue doing more!
I forgot what I'd had for supper? I think I was out like a light somewhere around or before 8:30 PM. I couldn't have been bushed. Why, I had even been fretting I couldn't mow more hay for the lack of a delivered machine.
"Rainbows."
Fernan