Season's change
Egad, seems summer has snuck up on me Again. One would think these things would be remembered when his Birthday, an honest down to earth Father's Day holiday, and the last day of Spring is celebrated with an equinox fan-faring in the first day of Summer. Now, lets get it right. (grin)
~~~~~~~~~~~~~~~
My day's purpose had direction this morning. Turning west out the drive I directed my attention to that satellite field some couple mile NW as a sober crow might fly. There I finished leveling part of working that ground for planting. The earth prepared I Ugly let me drive back home to take an 1850 Ollie off the Currently working 554 Vermeer round baler. A fine running tractor freed of one burden was quickly harnessed another, a gravity box containing mixed together seed and fertilizer. This mix Broadcast over the field the assumed amount to do the job had come out just right. The Ollie parked for the moment, no need to run it right away, I made some lightening the spring toothed drags depths for dusting in the sudex seed. Finished it was a due south bound emptied box delivery back to the elevator.
The lucky Ollie relieved of its temporary tow I returned it home to it's exalted position on the front the 554. Lunch time it was nearing 1:00 PM and I didn't such a lungful awaited lunch as I had eaten yesterday for I had missed one my meals unless it that bit of desert I enjoyed shortly before retiring.
Lunch devoured quickly The 1850 leading my herded way we had a downed hay cut in immediate need of balling. Between my aching bones, the crispy feeling of the cool humidity permeating the air I do believe I had Finished my hay balling just in time. Upon return home The were tell tale signs my farmyard had experience so isolated raindrops while I was gone. Getting onto 4:00 PM I had the 4010 to go back to for making it travel ready. No word upon a heraldic line fix, seems I needn't worry about it this afternoon. However, feeling exceptionally tired and achy all over, I laid down for a few minutes waking better than three hours later. Then way to late to recast my voo doo bones for a reading to fit the situation. What the…. I've earned a rest.
Gruesome photo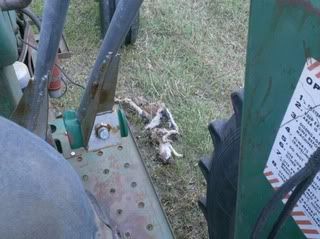 Sorry about this last part. No, not too vary sorry. Life and death are a common farm's living occurrence
"Rainbows."
Fernan