So, before I continue on my tale of woe, let me back it up a couple days and evenings to that evening we both found we like onions. Yum!
Settled in our seated places under a street light right out front the Catholic Church this scene over-looking Lake Michigan I turned to Frieda to check upon her practiced puckering skills.
"Hey!" I voiced getting her attention. "What was that quick peck on the lips the other night after the dinner-dance? I thought I was entitled to something better than that."
"Like what?"
"A real kiss, like what." I said.
"Like this, and she leaned into me giving one of those toothless old grandmotherly smooch's smeared all over my face. Ho boy, did she need lessons. "No!" I said, "Not like that. You've been kissed by to many old ladies. You're not my grandmother and that kind of a kiss you can save for your grandchildren. Now just sit here quietly and I'll explain and show the kissing facts of life."
"You're going to show me how to kiss?"
"Yeah! Now shut up and listen. We know you've got a grandma's kiss down. Now here's one like your mother's." I demonstrated kissing her forehead. Now here's one from your brother." And I kisser on her cheek. "Now, Let me show how a boy interested in your future does it." I had been within for this moment For at least a couple days, taking her chin in gently my hand I held it gently and slowly closed the distances between our lips, while whispering softly, "Now don't open your mouth, breath, do what I do, and feel the magic if it's there." Our lips pressed together, the world turned some.
When our lips parted I heard her whisper, "Whew."
"Now that is a good start." I told her. "Want to do try it again?"
"No. Oh no. You shocked me with that one. Now I think I want to go home."
"Did I do something to you, you didn't like?"
"No, No, that, that kiss." waving her hand, "It was criminal."
"You liked that kiss?"
"Ummm, it was a good one."
"If you want to get better at it, pucker up and kiss the back of your hand and I'll check on your progress another night." And then I took her home. Walked her to her door merely shook her hand and wisher her a, "Good Night."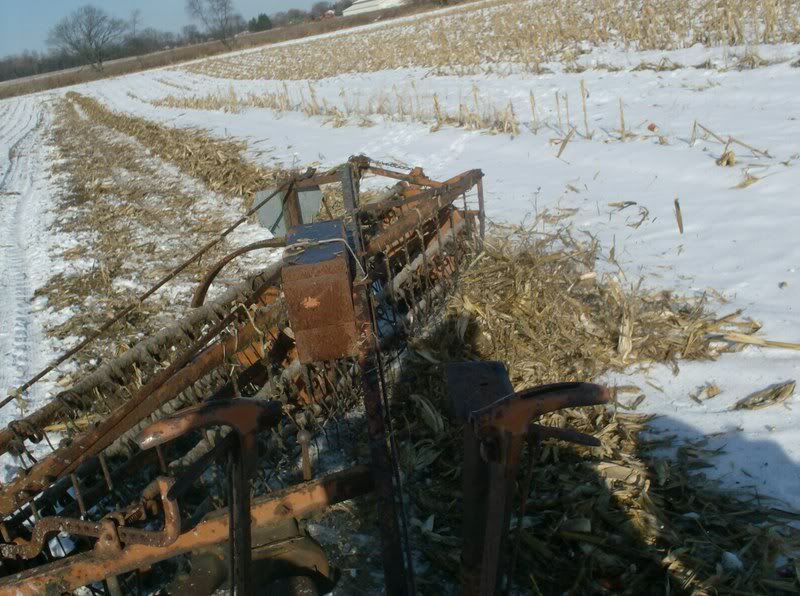 The weather nice today even at 20*, the air's quiet, the sun shined bright. Ugly loaded, I used the empty Cushman's able bodied assistance to run the road for eight five gallon cans gas. Preparing to haul hay, Bro' came up with, "Lets try to rake the stover out of the snow and bale it. Okay, I went to field. Started JD, made a round on the field. The IH rake could not do it.
Then getting a dangerous idea. What the heck? If I break it, we can fix it. I returned home and brought the Allis-Chalmers combo tractor and hay rake into service once more swearing I'd never abuse it as I was about to. I put the rakes swinging basket into high gear, dropped the tractor transmission a gear, upped the governed engine speed and took off. The old rig surprised me. Areas two fields raked I went for baler. Prepared belt repaired I slipped it into the baler. When extra parts were also repaired Bro' finished belt lacing. An hour and a half daylight left I had that much of the day to hustle. In the field a bale started easily. Half way down the field with a half bale rolled the belts slipped util bale quit turning. A no a turning, a no a tying the bale. The gate opened I drop a lump on the ground. Baling was all over. Day's end was looking good. BGKC.
Fernan