I think most folks know Frieda had finally gotten her dog of choice, a doxy, Holly. Just this morning Frieda thought there was something wrong with her Holly and asked me to look at her. So I picked Holly up, an exercise she detests. Holly fidgeting in my hands, I looked her over. Obviously I frowned as I told Frieda, "I'm just going to have to put her down." :-(
To this Frieda asked, "Is she hopelessly sick?" :-|
"No!" said I, "She's just to danged squigglingly heavy!"
*************
Beautiful morning. Ran across varmint caught in what it'd been doing last night.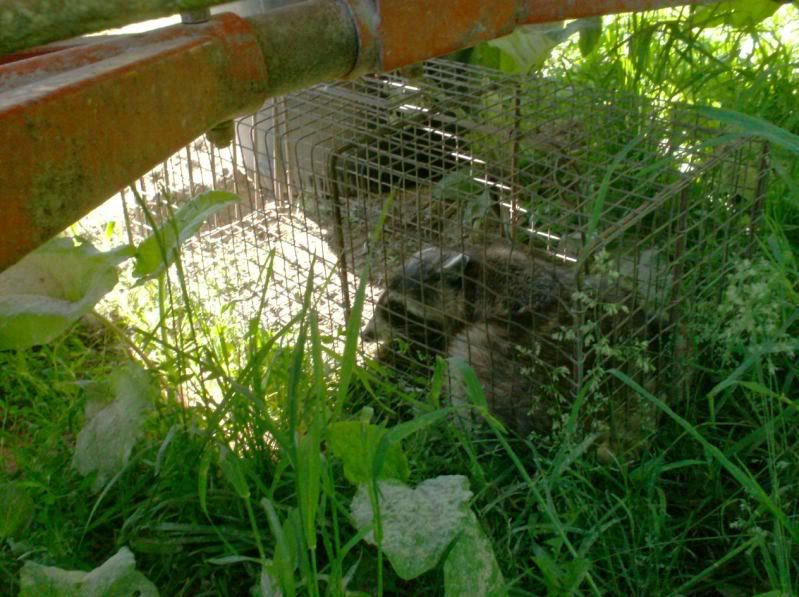 It'd be a gift to Demeatrius for his Black and Tan hounds. Almost a shame I had to ruin it with farm play. First thing out of the chute the second baler plopped a tire right off the rim my hitting the road. Deciding to get it safely off the road on a hill top I pulled the whole rig right into Mr. Got Rocks driveway. From there I strolled down hill to the shop. Loaded truck with menial repair tools enough to get the job started. To look like I cared about his lawn I happen to have cardboard piece I weighted down under tractor. Then I commenced to remove offending tire. Taking it back to shop that thirty year old tubeless tire just got an inner-tube today. There! Getting back site of my morning misfortune I exchanged a few words with Mrs. Got Rocks. She's still worthy a couple extra looks. Lucky the old man who had gotten her to keep him young at heart. Oh yeah, I did put the inflated tire back on baler and removed everything indicating I'd been there back to shop.
Trying my best to get started upon the afternoon, Bro' managed to keep dinking me around until he almost made sure the afternoon was lost.
When I did get away I was looking foreward to supper and what had I done? I'd neglected to refill my pill bottle. Supper was late tonight. Some kind of Garfield un-recommended all vegetable lasagna. I had hoped it taste better than it sounded?
Going a-field with an 1850 with haylage baler I did manage to put up a dozen bales off a field where I had expected less. Was volunteer grass following last fall's sudex harvest. I'll take it.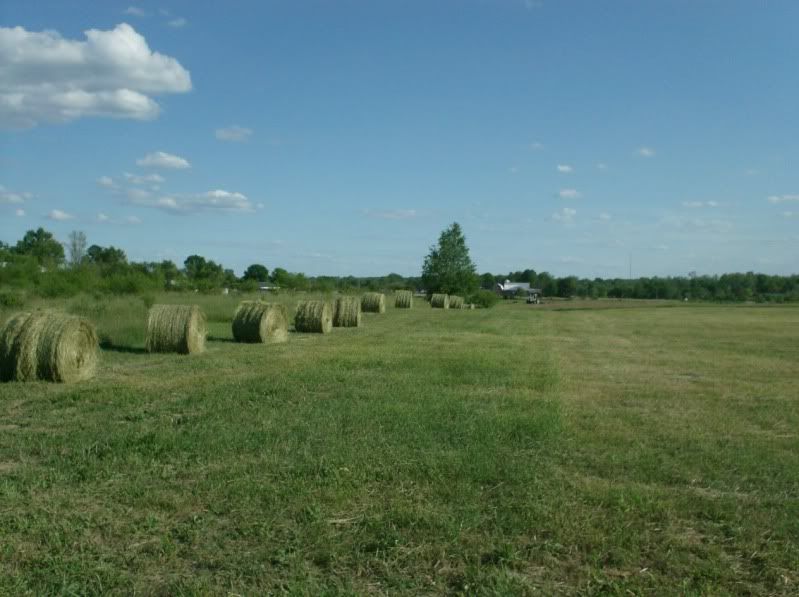 ~~~~~~~~~~~~
Celebration time:
We're great grand parents again, a boy this time to even up the ranks, that's one girl and two boys.
Ho boy, I'm loosing it. Have got to lie down. BGKC while I make some zzzzzzzzzzzzzzzzzzzzzzzz's
Fernan