More on my title later for it fits. But first I'm going to relate an additional yesterday's happenings.
Making a cell call Tom and I had finally connected yesterday. Having missed his company the last few weeks I finally had something I was doing I could use some help with. That was a three days ago. While I had dangerously taken a couple shortcuts achieving my adventurous needs preparing these fields for Spring and Summer's hay-making/pasturing needs I got the jobs done. Tom's absence was directly related to Wilma's delivery a dozen piglet additions to his farm community. Sadly Wilma had laid on four of the off-spring requiring Tom to sit Wilma around the clock to save the remaining eight from her laying on any more of them. Interesting side note, since Wilma's become a mom again she wont let anyone near her, even near her pen, with the sole exception of Tom. Tom may sit or nap beside her as if he were immediate family. (this causes me to smile) Animals can be so peculiar.
Reading the http://countryvisits.com/forum.php Home Board, boots have been mentioned for additional protections. It's coincidental the commodities mentioned needing all our protections from can't fertilize crops as efficiently as the imaginations.
~~~~~~~~~~~~~
So wet yesterday's morning I was spinning my wheels having to drop to FWD to make it up the lower drive. So bright and sunny, with just the right amount of breeze I could still spray paint, I near like gave up panicking in and up the lower drive without a FWD thought.
~~~~~~~~~~~~~
Had to grind. So that is plug in Leland, go to elevator for fixings, get empty feed wagon, come back home. Had lunch, brought machinery out old barn.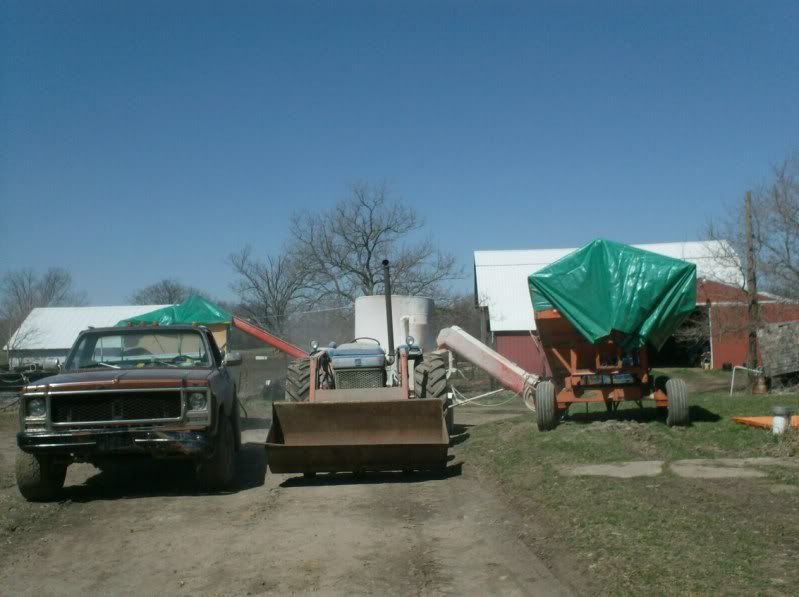 Then it was set up machinery, grind adding supplements, put everything ground in feed wagon, deliver and spot. When this was done I slipped out before Bro' caught me. (he-he) I just had to see and met a new young lady who'd just been moved into the neighborhood.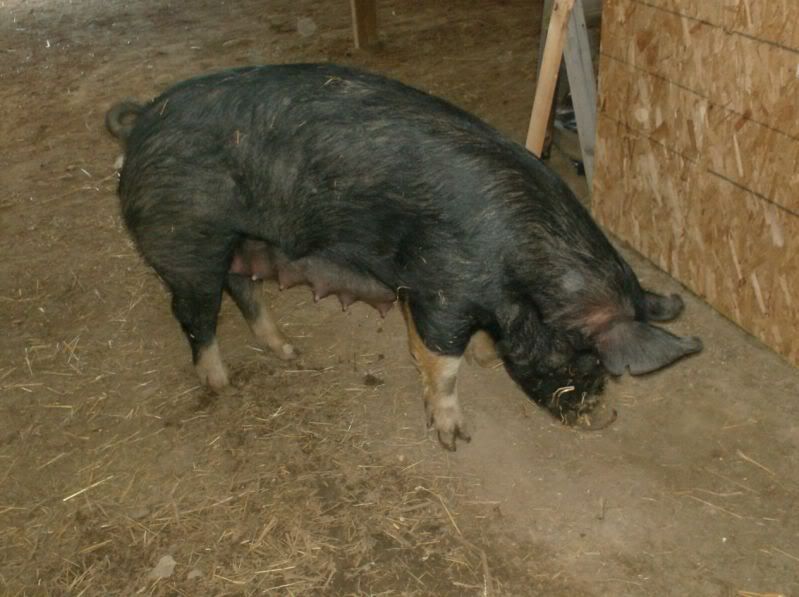 Couldn't help, butt think of Ron and what he had missed. Things happen. This, the beautiful Lady Wilma had just given birth to whole liter of the cutest little piglets liking this one in Tom's hands.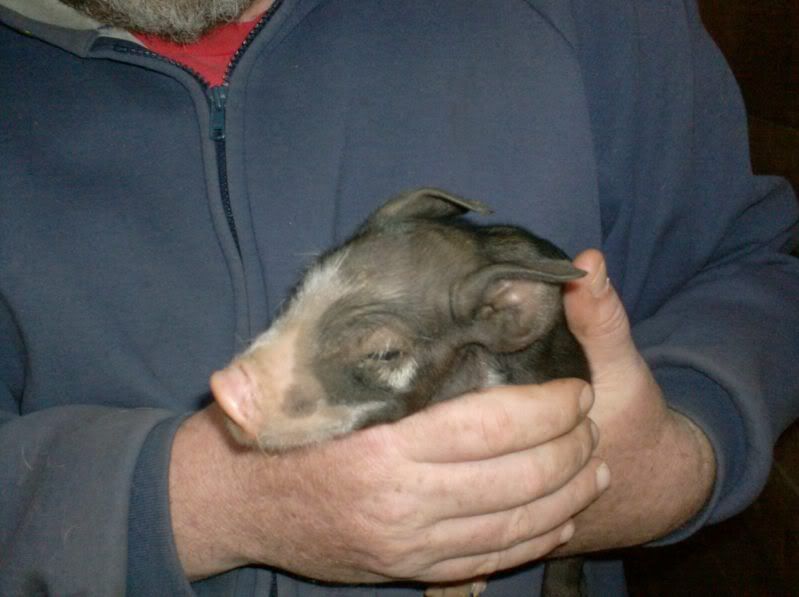 Coming to see, coming to meet, it had come time I put some time at the shop.
~~~~~~~~~~~
Getting back, bro's truck held the JD's new batteries. The battery boxes readied I started putting these parts together which took some time. Heavy and awkward I finally managed to hang the batteries on the tractor's sides.
All together it were time to try starting it. I volunteered to do the highly technical job, of polishing out the seat and turning the ignition key. We had spark which appeared strong .The engine rolled over several times before a single cylinder fired. The carburetor was drained of some stinkingly old smelly gasoline. New gas filling reaching the carburetor we had several fires rolling the engine some on its own. Bro' called away for calf weighing in, Tom took fine assessing ignition parts. He found the rotor was/did fall apart. We need a new ignition rotor. Bro' can take morning's time to find another rotor. My morning's filled with medical appoints. Whoopee!
~~~~~~~~~~~
Eat your heart out Ron.
You'd have missed seeing these……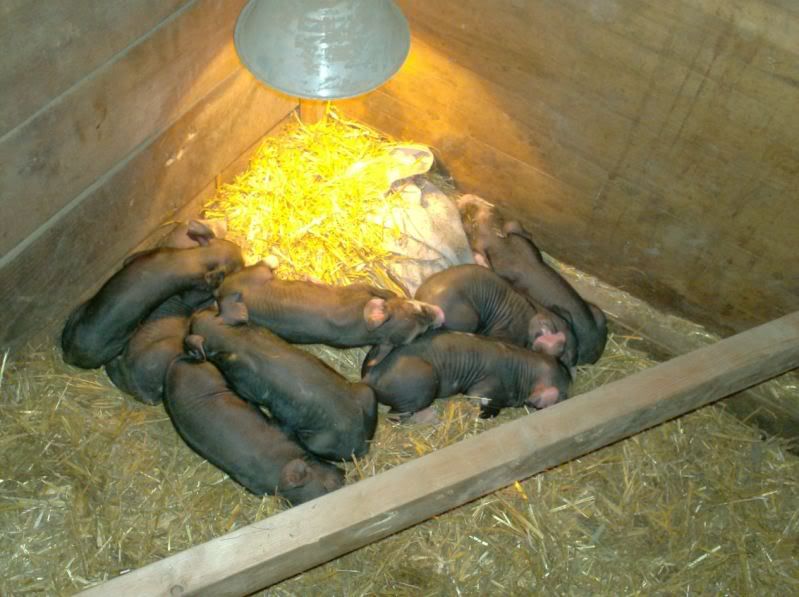 …….and this peaceful scene…….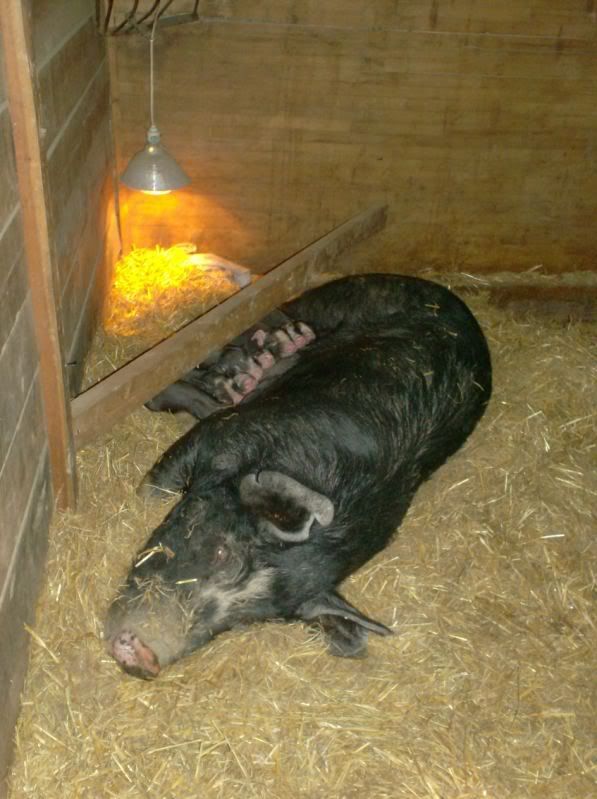 ……..but not for me. Just had to show you I've got some of the nicest neighbors.
Fernan
Now, if an of this does not make sense....Tough!
I'm tired out of my mind and skin. Say "good night," Fernan.
Good Night