Been asked, "Where you at?"
I haven't given it much thought where I am. I am where I am any given moment around here as busy is busy does. I don't even get to go to farm auction social event today. Got therapy under the hands of a couple beautiful women, and grain needing grinding for the day's starters plus calving has started. That's checking pastures three/four times a-day.
I should-a gone to auction!
~~~~~~~~~~~
Following my morning's four stops running, home just before lunch, I found this mom and bull out back.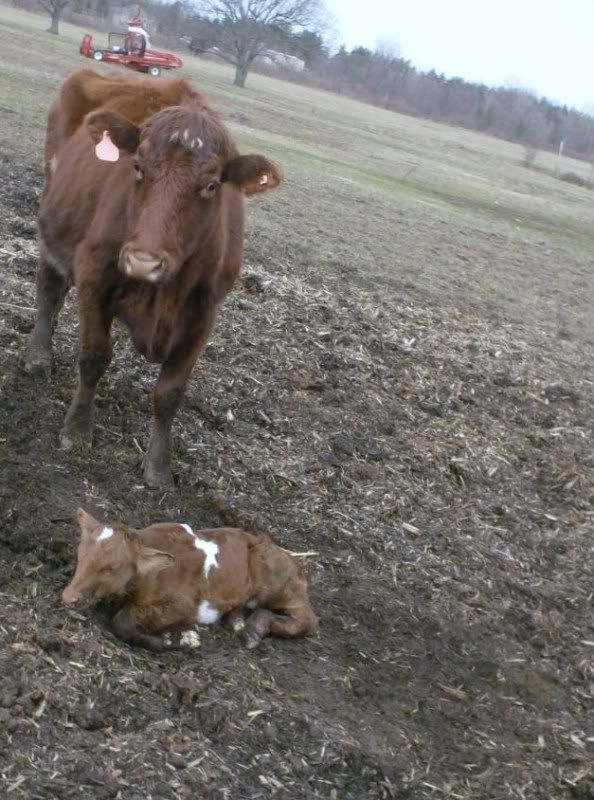 The little guy was still wet behind the ears and a little tipsy on his feet. Looking back, as I walked away, he had miraculously started holding his weight up and looking for the lunch counter to find what was on tap.
~~~~~~~~~~
Grain ground, delivered and spotted, I was going to turn to bake for taking the 4-180 White tractor down the road. Well it was a good idea.
Frieda and I fed up with Sweethearts yowling all but two days since she's come home, Frieda gave her every opportunity to go free outside. Sweetheart was on the threshold hanging over the outside edge looking like she was going to go. The utter a couple "I'm not going to go, "Mer-ows," she beat herself right back inside the house between Frieda's feet. Neither one of us have seen her since. So much for getting rid of the cat.
While I was in and out of the house a couple times I thought I might better get a hold of Charter cable and subscribe to all the free Internet computer protection free-be's, I mat be missing. Worked at it for two hours and have no idea whether the updates had downloaded correctly or not. Also didn't get my bundled Charter deal either. Something to do next rainy day. That could be tomorrow my figuring on getting out on the fields? Then I finally got back to the 4-180. Using the Cushman I charged up the batteries (at least warmed them up) so it'd start easier. While the Cushman did it's thing I was in and out of the house for a couple more small matters. When readied I cranked that gunmetal gray White its starting immediately. Was almost startling. Letting it warm up I disconnected the Cushman and put it away. Looking back and walking back for the 4-180 a blue fog had risen from somewhere (something) nearby blanketing all the near areas between my farmyard and all our nearest our west side neighbors. The tractor's exhaust emitting what looked like only warm air it were time to get under way. Driving the 4-180 it bends in the middle (articulated) two turn from side to side starts out a challenge. I found it to easily over steered making for an instant panic situation bringing the big monstrous machine thing back straight. Once on the road I managed to miss all the mail boxes and cross butternut creek over the bridge. I also managed a couple snapshots.
My goofing off while driving down the road: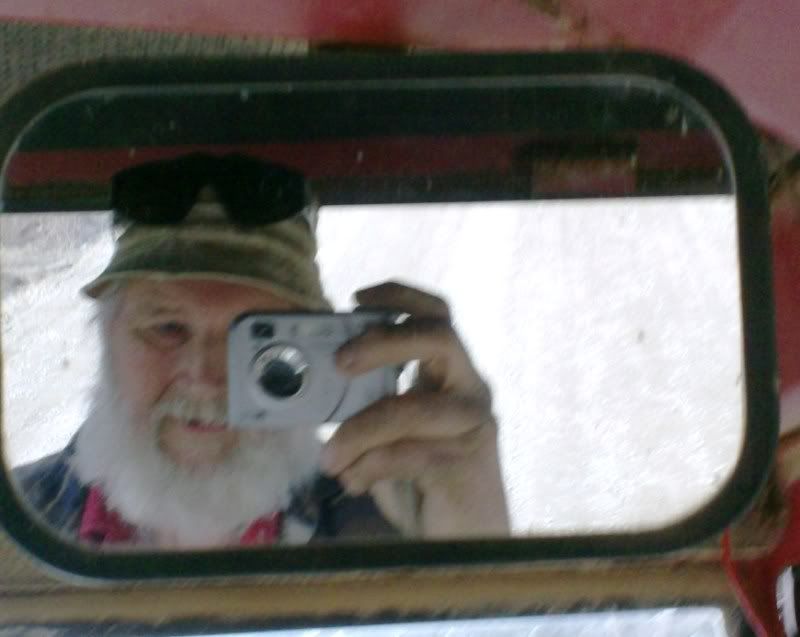 And another, the road I was driving down: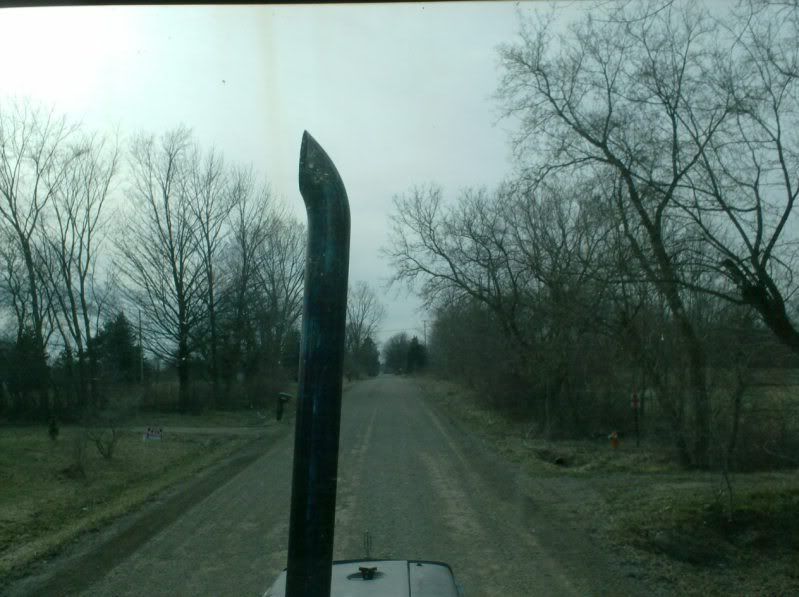 Parking it in the farmyard at the far end It didn't take up near as much room as I had predicted myself it would. No books on the machine other than the operator's manual (missing the repair and parts manuals) it's going to blindly fun to make fixes the monster? I feel like an unprepared warrior without being armed and armored with the proper books to take up the fixings challenges battles to come out a winner? BGKC.
Fernan