If'en the locals aren't writing about it, they's calling me on the phone announcing were in for six inches of snow along with a Winter storm watch! Wonderful, just frapping wonderful!
Hush now! Winding wire I've been treated to the frogs croaking start yesterday and their really with the program this morning giving with their kind of song. Frieda wants ride out there to listen for herself and says spring's officially here when the frogs start croaking. Problem is, neither one us quick enough get on and off Cushman before the unsolicited ladies aid society should choose to come along uninvited.
Oh, the wire winding's going strong. More on that subject later….
Dad-gum-it! In for lunch its taking the cook forever making dinner I guess? The air's smelling like rain when I come up. I want to get back out their before I'm shoveling Loop's unsolicited snow to get back up to the house this evening.
~~~~~~~~~~
Offered a second opportunity to go outside day before yesterday Sweetheart and she went without so much as a "Good Bye" or "Bye you leave," The Hussy. Oh sure I saw her outside teasing four or was it five tom's, the Hussy! Now given an opportunity to come in this morning she's in, the Hussy!.. She's curled up over there on the sofa sleeping away with no immediate intention of telling me nothing, the Hussy!
~~~~~~~~~~
Mama cow sure is giving me the bovine rendition a what for all morning long and following me around to make sure I get her message, "I want my baby back!" She's no idea how much I wish I could have been there to help that calf out of trouble had I seen the accident happen.
~~~~~~~~~~
After all my negative troubles I had with my fence wire winder all yesterday afternoon. It behaved near flawlessly for my this AM. My operation flawless is another matter. Scarcely out of the barnyard the fence I was winding ran right through the Spring water hole in this picture's foreground. It had come time to test just how cold that water was if it were deep enough. Nonetheless it was a test for waterproof boots?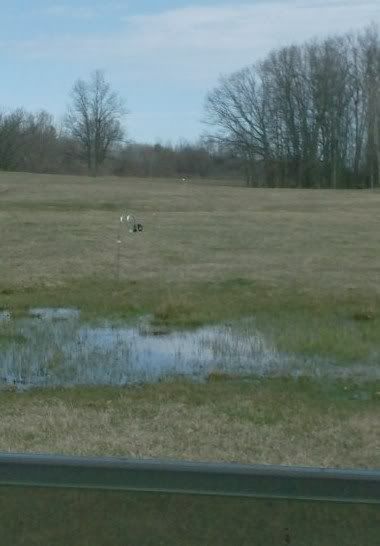 Then to get to the other side there was a bit of this…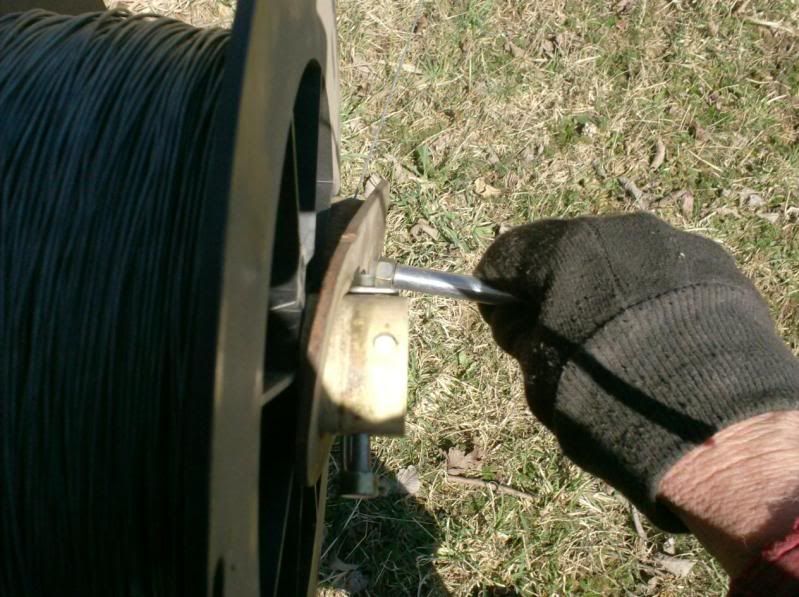 And so went some of the morning.
~~~~~~~~~~
Well, I didn't make a long afternoon of it on shortness of breath, generally all over all over achy achy-feeling. Could have been more hiking than I'm used my field test some odd three seasonal water puddles. Or how about a low pressure system moving over our heads the weather guessers with their crystal balls are predicting 6" to 8" snow over the next couple days. They even called for a storm watch, a ridiculous idea if I ever heard one. How's one go about doing that? Sit it out in the middle of it? Naw, I ain't got time. I've got to study my coffee making home work tonight. Plus I've got wood, I'd loaded on Ugly's back before six, to bring in during my study breaks.
~~~~~~~~~~
I think I had jump startled this goose earlier this morning along with a couple mallards, out of the following water hole. In addition there were any number small flights (family units likely) flying circles overhead perhaps looking for one of those private little hideaways. This water hole sits half way between two suck skinny dipping sites.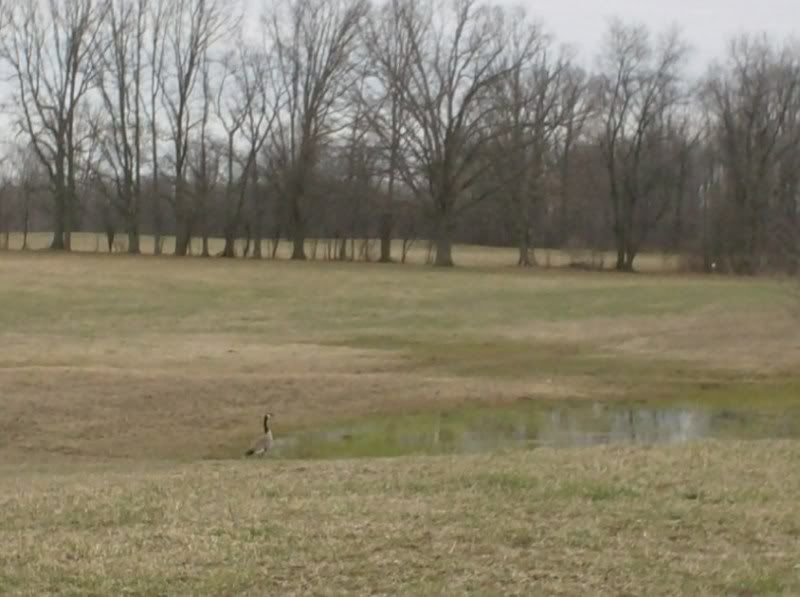 This is another view my backyard. The north side property line is 3/8's mile away. When the ladies are turned loose they take great pride n keeping these fields short and green liking it were a park.
~~~~~~~~~~
I'm sure there was more what could have been said if I had only remembered it. So, what I had managed to do today has pleased big. All the intermediate fences are picked up time, plus a quarter mile perimeter. This good these fences out of the way I can spread fertilizer and pickup or chip brush piles.
I hope my future enjoy's reading this as I did living it.
Fernan