….for no reason at all? Well maybe not? I did throw a log on the fire last night what did a sloe burn all-the-nite-long. No blanky need to wrap me the heat I'd felt more comfortable generating for my hibernating self, than the woodstoves heat what held me just on the edge of deeper sleeps. A weathering low pressure headache didn't help matters a bit joining the effects of to much Spring nite warmth. 4:00AM I'm watching pretty woman. Only thing on cable what ain't spilling blood and guts all over the screen. So I listen and open my only good left eye to those scenes I like best: her Lady's emergence coming off that lounge stool, her stylish look in polka dots for the polo match, and her proud walk of accomplishment her hotel's return after her disgustingly obscene attentioned shopping expedition. Oh yeah, even the character enhancements Vivian brought out of Edward's inner boy to the more pleasant light of day.
The weather hadn't turned Winter's cold. No ice, snow, nor sleet of night to keep me from my morning's appointed rounds. One of which does not include A medical appointment. Still a two Tylenol morning my face quite possibly feeling like a long time abused catcher's mitt. I could sure use one drier day.
~~~~~~~~~~
Oh Lawd! I've just gotten wind of a most discerning gentleman's heart is set upon acquiring an 1850/55 Ollie. I wish his lovely bride buckets of luck. And upon hearing something else I shall keep, but hold dear, a little lady's secret. (smiles)
As idiotic as it may seem, if I had money to throw away or all the major pieces brought together for a song I'd have to learn how to sing first, I'd find it a gas to assemble a 1850 tub and Perkins engine to an 1855's final drive. Now that'd be a tractor or just save my coin for a later model 2-105 White. And sneakily paint it two toned Deep Purple tin over Blackened iron. Be it accessorized with fender fuel tanks, a hard top, 18.4x38 drivers and 11.00x16 steering wheels and tires. (smile) I've never liked White's silver-magenta gray. It's like putting a luxury Cady limo finish on a throwaway Chevy Vega. Gray's an un-impacting dead end color.
~~~~~~~~~~~~~
Ladies here already headed up to the table set (round ring over hay bale). The little guys are the three calves born last two weeks on other end.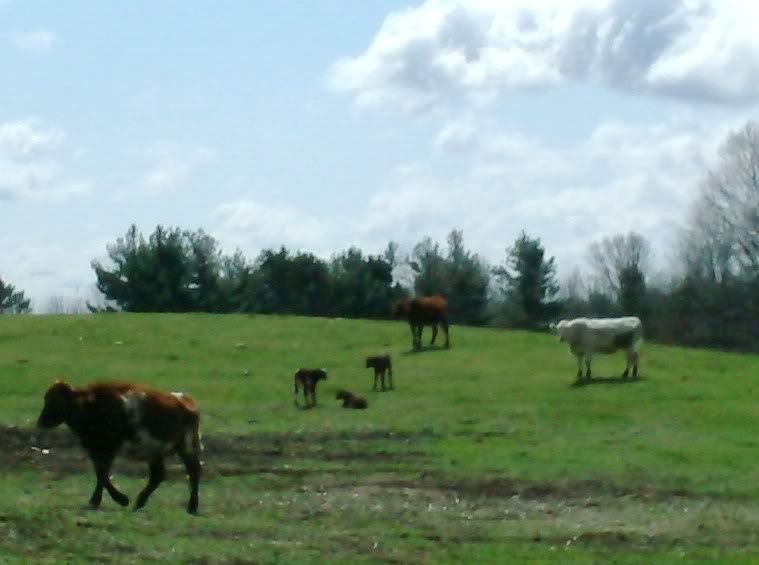 One of these critters is on the wrong side of the hot wire. Not a good idea where I was concerned.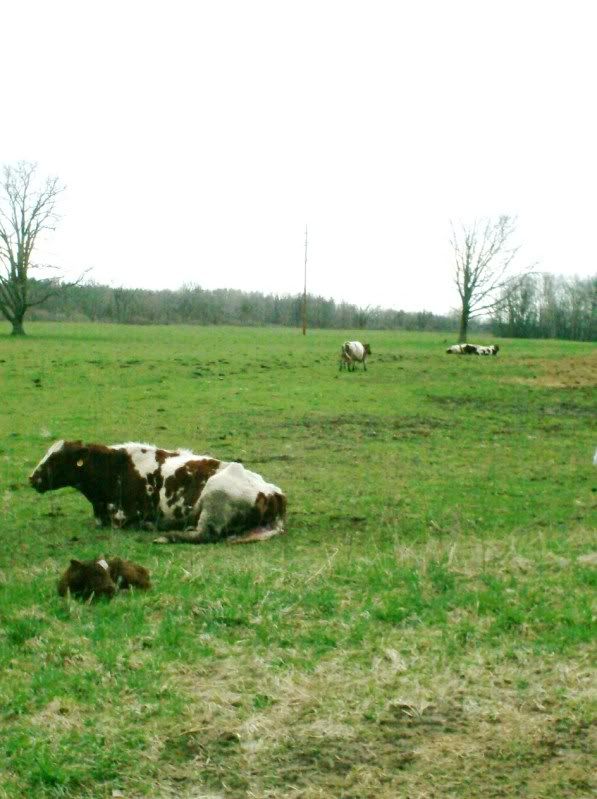 Disturbed, this same pair had decided they'd had enough of me; for, they'd gotten up and walked away. I'd guess they were showing me!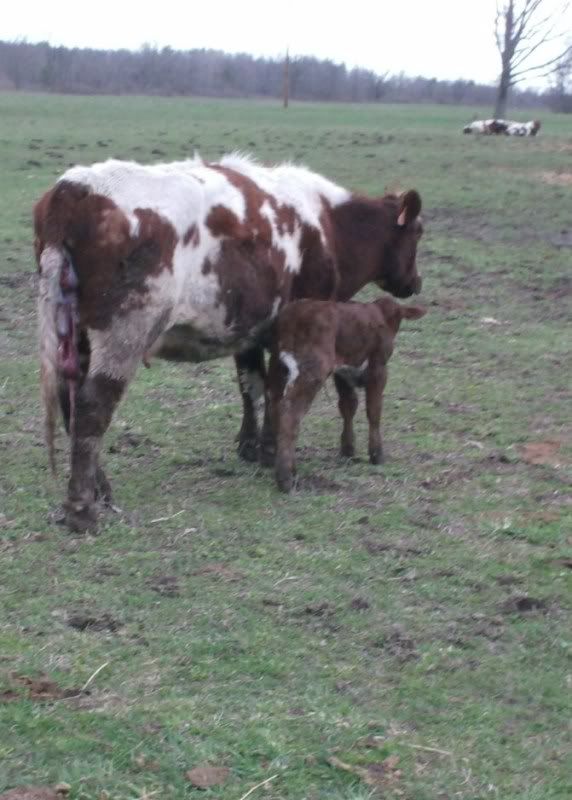 Also notice mom hasn't expelled all the calves afterbirth. If co doesn't loose it the next three days one of us shall have to put my hand in(up to my shoulder to help her clean out. When one of us has removed as much of this afterbirth, that one of us inserts three antibody poultices' into her body where she had carried that calf to term. A task when finished, fresh air is a never more welcomed commodity.
~~~~~~~~~~~
Only other activity I'll jot down per-record keeping is I'd finally found my favorite two day lost stainless steel vacuum bottle right where I hadn't had permission from Her Mostess to have put it. BGKC.
Fernan