Speaking of Bakery's
As far as I've traveled I've only known three outstandingly good bakeries. Two of them were in my home town and another in Ludington Mich..
The best home town bakery, Mr. Mundy's (an old world Jew) bakery died with him. Lawd his pastries and breads were so good a body tasted the very love he baked in to them. There was Mackenzie's (Scotsman), still there, but having changed hands I can't swear to the original man's favors. And, the one in Ludington (Swedish), the baked goods so good, their scents on the air, a man gained weight while he was still approaching. Opps, there was yet another a good bakery coming in close second to the first aforementioned in Holland, Mich.. Frieda and I enjoyed our first newly wed breakfast there. Had some of the best they made with my best girl that December morning. Gosh Shari, thanks for the memory revived/revisited that was a happening just ten plus lustrums ago.
~~~~~~~~~~~~~~~~
A grown boy and his toy. Well, more like borrowed. I used this Ford 5550 loader-backhoe. What a machine! Likely twice as big as our own 3400 Ford loader-hoe, this machine was an easily driven machine surprisingly agile for its bulky size. Hydrostatic driven All the sticks dual purpose it was an operator's dream. For all the loaders we have at our disposal this machine would come in a close second for haying. Having not unloaded a hay wagon with it the JCB continues t hold a slight edge anong the lot of them.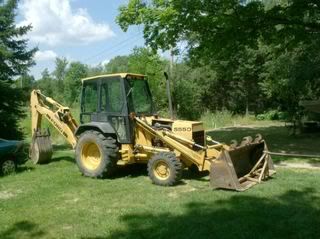 One thing sure this machine's hydrostatic drive is thumbs and finger out classing tour poor old 4010 JD. I'm ashamed to say I could lust after this tractor for a FoxFire Farm replacement. (sigh)
The hay loaded and Raymond on his way home I very carefully tagged along well behind bringing the Indy Oliver and the haylage baler home slowly. Because the high positive side of the hydra shift transmission was locked out of direct drive, I was going to have my moments holding the combined machines back on down grades. For example lacking brake horse power when I crested two hills on my way home at 8mph and freewheeling coasting the down grades each the other side I was doing a swift 14mph speeds. Sure glade I didn't have to many of these. The trickiest maneuver was keeping the contrary beast slown down for merging into a non stop cross traffic intersection. At the top of that grade before I had crested the top of this down hill grade I sort-a put my right side wheels into a shallow ditch moving no more than 4mph. I hadn't sweated any bullets keeping the machines going my way rather than at theirs had I let them.
~~~~~~~~~~~~~~~~
During my drive home I spotted a lad of about 40yrs and stopped to palaver with him over a pice of ground I had inquired about a couple years earlier. A pleasant walk down a pine shaded lane into a wood I eventually met the younger man's father. Introducing myself and speaking with he elder gentleman My renting this piece of ground wasn't looking good. Inquiring of his family the place complementing him upon the private haven he started coming around. Gosh I've got to get back there ral soon and talk over what may be expected upon our parts to make the land productive. There seems to be no problem with disposing of some shoe mach but there will have to settled the removal of some volunteered wayward trees. Enjoying our short talk, I am looking forward to seeing the old gentleman again.
Baler home needing attention, ground grain needs tomorrow and Saturday will help keep me busy, plus time to start second cuttings. Worked some on Ugly. While Ugly still isn't running we managed to junk a distributor getting it worn out representation out of the way. The mower-conditioner needs greasing and oiling. The rotary-conditioner requires a change to taller shoes, and some end cutting replacements, and a good greasing and oiling for Sudex harvesting. Here's when the older mower-conditioner with its closer ground cut will be used for the alfalfas' and clover stands.
Oh gosh almighty I'm tiring quickly now just thinking about what all needs attention tomorrow. BGKC.
Fernan