Continued hot and humid here making life miserable and patience short. Ugly's still not running and I'd like to shoot it with my 44 caliber putting it our of my heavily weathered misery. Tomorrow's another day with two more non working possibilities for Ugly's inability to serve and keep me comfortably happy these days.
Today's heavy rains passing over this area, I've got three more dry hay making days to finish the first cutting.
Frieda's breathing is difficult under this very heavy weather. And, now she decides to push herself. She tells me she'd managed the basement stairs and is taking back the laundering not liking the way I do it.
~~~~~~~~~~~~~~~~
I'm at odds with myself waiting to hear some news of, Chips, knee or knees operation. Something about out patient cartilage surgery. Beats me how this'll be done without hospitalization?
~~~~~~~~~~~~~~~~
And now for some small pictures making them easier to up load.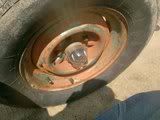 How's this for a fancy wagon gear dust cover. A pop bottle bottom secured with a radiator hose clamp.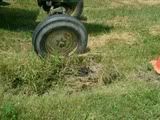 The pictured caved-in tiled under ground county drain crossing the property in our bottom land. This hole was made a week and more ago when a tractor I was driving had fallen into it. The collapsed hole is deeper than the height of this front tractor tile, three feet or more in depth. This bottom land was once a swamp. On the property just to the east of us this same clay tile had drained a lake. The priorities having changed over the years wetlands may no longer be destroyed without acceptable pre-approved replacements.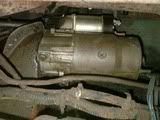 A look up while laying under Ugly in a knapping position. The central object in this photo I've had in and out or off and on Ugly's engine. Was fun fun fun.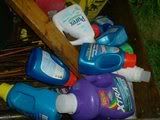 In my travels up and down our road I happened upon a cash of smaller but brightly colored plastic assorted laundry product bottles for highlighting the tops of my finicky fences corner "T" posts.
Who's said, farmers aren't having fun recycling mans waste.
Another different useful idea. Wouldn't some of these bottles make delightful seasonal ornaments for outdoor Christmas tree decorating?
~~~~~~~~~~~~~~~~
More afternoon fun I might have been seen leaning on the Cushman's governor staying ahead of an incoming storm. On getting back to my shade tree (the one over Ugly) I managed find I had 12v current to the distributor and to tidy Ugly's tailgate and under-hood everything there put in a waste basket for an improvised tool box. From there I put the Cushman away and almost stayed ahead of the then falling rain.
Ready to relax settling in my recliner my relaxing was all to short. My cell rings for the cattle out. Crap! The Cushman needed a good washing anyway. We were on our way. I got soaked to the skin. The Cushman only got its skin wet. I've got to say the Cushman moved into (onto) the cattle and between us our assistance added to those on the scene ahead of us we'd done well adding to all getting the critters back to where they belonged.
On my return home so wet, I required Frieda's assistance pealing my wet clothing off. I then set a spell and enjoyed a soda Frieda was about to make us before I was summoned to a need. A little bit later with a headache for my noggin's company, I laid down and napped for a couple hours.
And, ride the rain help cool things off? Hardly as we're now sitting in a Mother Nature's own steam cabinet for lack of a better metaphor. BGKC.
Fernan