Some painful bad news first. Right eye so damnably sore the left one has joined it in pained sympathy. Argh! Only relief is the cussed, also uncomfortable, fashionable black eye patch. At least the color's okay. Meanwhile I do little looking at anything I don't really need. (tough)
Ugly continues unfixed and I don't give a damn, no better than my eyes feel right now. Ugly has even come or gone so far as to even become either or both mossy and/or moldy.
[IMG]http://img.photobucket.com/albums/v343/FMGruber/Machinery%20Etc/tractorandorimplement002.jpg[/IMG] "At ease disease, there is fungus among us."
In desperation, I purchased another Chevy to temporarily get around in.
[IMG]http://img.photobucket.com/albums/v343/FMGruber/Machinery%20Etc/tractorandorimplement005.jpg[/IMG]
This little runner come fully loaded: AC, PS, PB, HD hitch, decent tires, including a couple/three little things (Dr's inside dr-handle & tailgate handle & open cable) needing fixing, to be expected. Opps. I forgot to ask "What kind of motor oil's in the engine?"
Now, I can pick up such simple cravings such as bread and milk in passing (something I havn't been able to do for Handy), when nobody going by has got the time. Now, I can even get to workshop and at least with some unfashionable eye protection goggles I may clean Cushman parts. Bottom line, I'm not walking long distances out in the elements any more than I have to.
Now, some for troops, having left me sitting on the side lines until they need a scapegoat for nothing getting done. Shyit, they can all keep their freaking rides and PUCKER UP!.
And Bless all the folks who've helped us keep our medical appointments. And another big blessing on the folks yesterday getting us to the bank, US Post Office, Mr. Brown's, and in passing by our eventfully seeing and purchasing the new to us temporarily badly needed pick'em-up truck. (smile) It looks like a keeper to me.
Alternative above pictures (thems above)
1st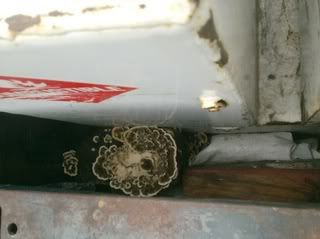 And
2nd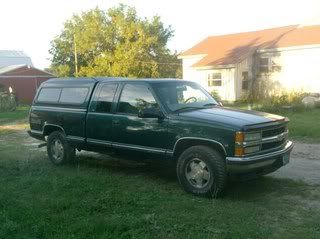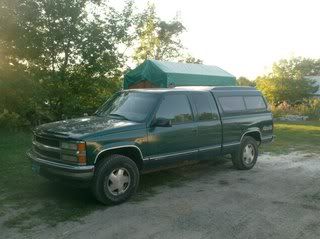 I spent most the day washing Cushman parts, morning and afternoon. Also spent some time (as well as Bro') looking for a misplaced Cushman engine tappet cover. Last thing I did for the Cushman was start the piston cleaning with a couple cans water just enough to soak the piston tops carbon for some easier cleaning when I get back to'em.
Bro' finally showed me the rowing pond n the east end the upper barn. Checking materials, didn't have any which meant a run over to the Crossroads. Then it was find Barry and go bring Ford loader-hoe back home. Now, we're supposed to start with the water line repair dig first thing come morning. Next part of the day's gonna keep me busy slow baling some heavy crop Sudex, meaning another gear or TWO drop?
Well, getting late, taken my patch off, gotta get some rest for what could be a real full day tomorrow. BGKC.
Fernan