Got-a Wait-a….
….for Frieda's medical as to what's gonna happen next. I often wonder if this waiting is a plot to drive a drive a presumed sane man nuts on a personal note.
Meanwhile, out in the varied yards, have got to worry about the animules. Two sudex crops (2 fields) cut the last two days, I've got to check daily, maybe even hourly, the crops moisture content. Must down to 50%, no lower than 35%. This process is almost measured and assured by guess and by golly. There are two moisture testing methods. My preferred one choice uses a very expensive moisture tester retail priced 2/3's the bartered price paid for the dumpy truck last fall or 1/6th the bartered price of the Ugly truck 3yrs ago. Why must everything have to involve so much money? The second method involves taking samples, weighed, nuked to dry some, and then weighed again for moisture loss. I'm going to have to try the second method. Shouldn't take more than a few minutes a couple times a day.
~~~~~~~~~~~~~~~~
Threat of rain, the crop perhaps drying down to fast went straight to baling rolled two bale, the baler broke down. Lost a drive chain. Off to the shop with the machine. It was the cutting of a brand new chain today. Getting tired putting together old chain pieces. Either way I fixed it right this time, the time taken would be the same. It was time to upgrade.
Back to the field rolled one bale. Sky clouding heavy like, going on a couple hours past dinner time, we bugged out for the feed bag. The tall Ollie parked handy like in the driveway, the Cushman taken back to the barn, Sneak and I each just beat the rain to the door. Thunder'n'lightening, weather reports, watching live Doppler radar, this was the center of an elongated stretched out rain cell that'd take its time passing over us. It was hang it up time for a good dinner. An extra pizza made last night reheated and berry pie-al-la-mode for dinner or lunch? It had to have been dinner for the extra time we taken to have enjoyed it. Why, I had even had a nap while three hours weather passed over the castle delivering three waves of ice cubes and three soft-water rinses we had gotten moisturized by up to at least 1 ½" rain. There was no going back to baling this day.
~~~~~~~~~~~~~~~~
Lets back the tractors up: I saw something I'd never seen before. A fog rising off the earth as I had passed over it cutting and windrowing the crop. Look closely the rising fog is visible over the the last two cut windrows.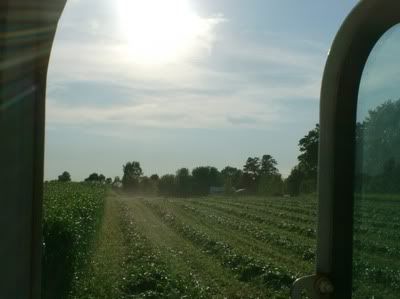 At least four rabbits and a fawn were reported seen leaving the scene ahead or just behind the rotary conditioner and that was observing just one side the field.
~~~~~~~~~~~~~~~~
The nap, one I hadn't taken in a long time, while I had missed seeing and feeling the rain, I had also missed some the extremely low barometric pressure upon my aging joints. And at that it seems all three of us had napped through a portion of the thunder and lightening displays of the weathers delivered rage.
Well rested I think I had steak for supper. Sneaks not to bad a cook. We all watched some TV and still bedded down our usual times. So what if I am up at 1:00 AM in the morning, when I've completed this, it's back to bed I will go. Nite-nite.
"Rainbows."
Fernan