"Twas a slow day as day's go. Found hay feeder broken up. I put the ladies hay out without it. Took the broken and mangled pieces to the shop in hopes somebody would do something about it making fix.
I feel it coming, I'm about to blow my lid over the varied accusation these hay ring failures are either all my doing or fault.
The old ladies fed here, the un-bred heifers fed just down the road fed both hay and bread, Fillip and I unpackaged about seven bushel baked goods. Then took lunch and topped the afternoon of with a drive over to Otisville for Her Mostess's scripts. Forgot about white yarn. Store probably wasn't open anyway. Drove past both auto part merchants, they were closed. So the last diagnosis's need for another tail lights flasher replacement will have to a-wait another day.
It had turned out to be a quiet day.
The day darkening as the clock face hands advanced it was feeling as if evening's quiet time had started early.
~~~~~~~~~~~~~~~~
Enough of this, how about a couple pictures I took the time to take today:
This first snap shot is of the homemade frame I had added to the first sofa. We had to discard it so we could carry the old couch out to the road for trash pickup. While the original ideal frame was fastened to the sofa it also had caster under it for easy rolling upon the floor for cleaning.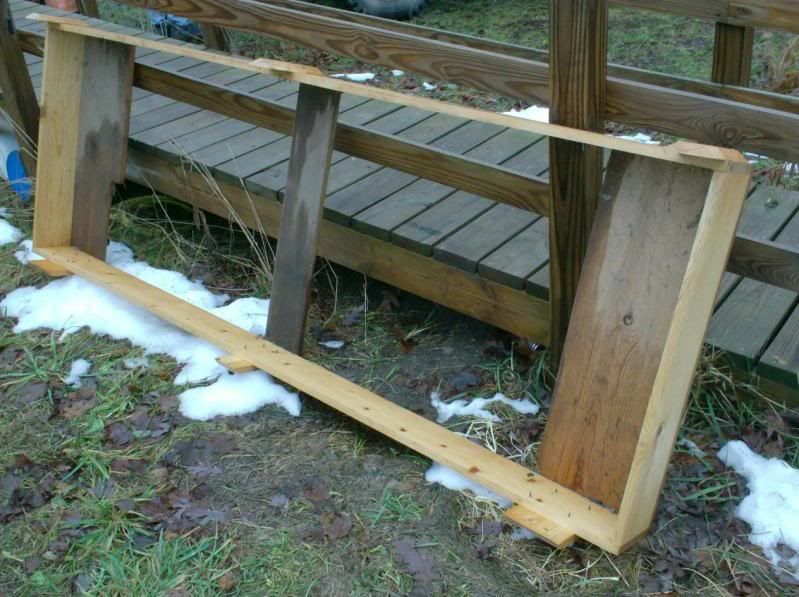 While I hadn't photographed the last sofa lift this last one wasn't fastened to the sofa. It was more liking a box the two pieced sofa just set into it end to end. A much easier concept to work/deal with, to even include the easier feature moving the furniture into the house.
~~~~~~~~~~~~~~~~
This second snap shot is of the fiberglass clip I had gotten in a terrific good deal purchase a few days ago for my Dumpy truck's body repairs.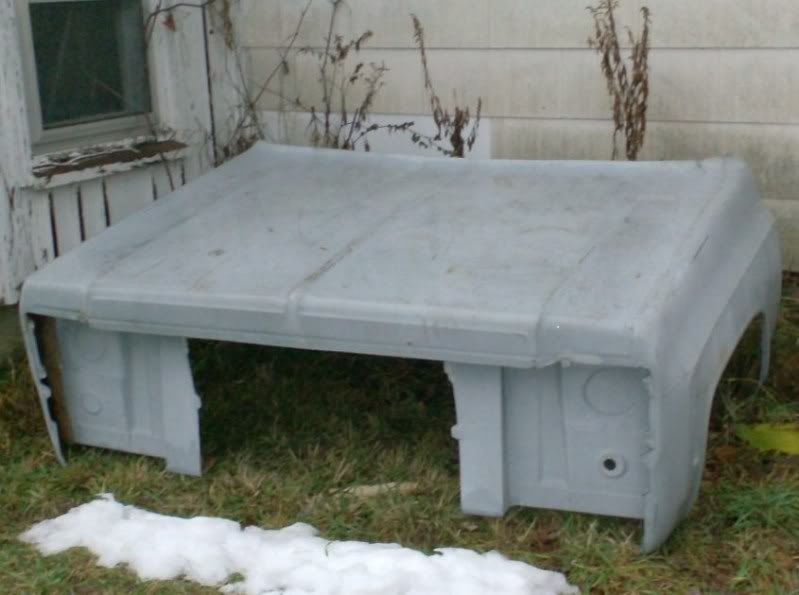 Internet information gleamed, down loaded, and studied, by the time I get to replacing Dumpy's clip (clip=this whole one piece front end thingy) I'll have the installation all planned out within my mind's eye. Gosh I am already looking forward to the changes. This'll be more fun than landscaping a model railroad's built to scale modeled village.
~~~~~~~~~~~~~~~~
I'm already imagining the Dumpy's painted colors visualizing the front end's cab part a 1954's bright GM red and the stake truck part of the bed and side boards painted a buff or light brown colorings the likes rainy weather stirs what's thrown up all over the truck during nasty weather.
~~~~~~~~~~~~~~~~
Hokkem Smokems: I'm about 10 hours late posting this. Oh well. Say rah, say rah!
"Rainbows."
Fernan