I'm going to spare my reader even a pictured dose white yarn the morning after the annually celebrated adversity mine. After all it has been over a half century mine Frieda has been taking care of me since my Mom passed the mantle of taking care of me over to mine bride of old. The search for the predicted six months we'd never last has never either been found or discovered. It would seem the stat-is-crow will just have to continue.
She said she'd slept good last night. I'd been up and down a number of times making my usual rounds hauling water, feeding fire box, re-finding my slumber. All this went on all night long save for one misery-ing round. Entering the bathing room reaching vicinity of the crown's throne I had found I made a crash landing upon the floor. Coffee hangover for that was my strongest drink all of the celebrated hours I put in yesterday. Wondering in surprise how I had gotten there I mustered up some serious strength to get to my feet even when I had no idea where they were. Twisting my torso so one or both my arms hands could find something to grip for my landing had found me hurting in a very cramped area. That was the first cramping, a second cramp unexpectedly found my left shin bone, with an excruciating pain taking over the muscle's occupying space. I pulled more myself up than I pushed with my aching limbs. One of them anyway. Ah, the continued adventures of aging.
~~~~~~~~~~~~~~~~
Up and my rattlers sorted for drowning, Her Mostess commented my pills were more colorful than her's: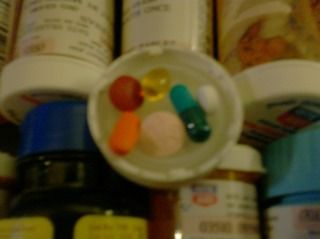 As for yesterday's celebrations I'll tell no extremely white lied yarns. For my brides sake she got just what she wanted and deserved: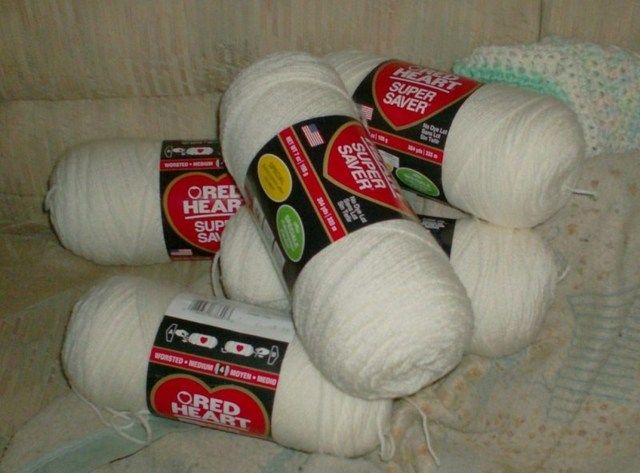 This is what we saw evening last approaching our home's door. A broken cross arm: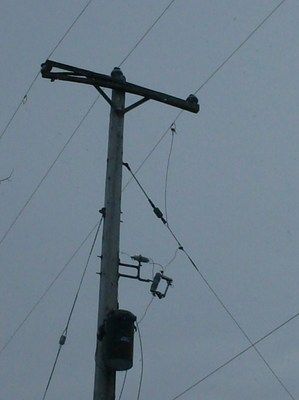 This morning a consumer's power line repair crew finally had gotten here to safely repair the damage in the better safer daylight: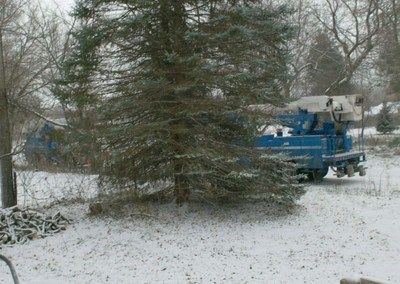 After some discussion the youngest man of the crew having drawn the short straw is up there in that lifted bucket. Note the extra temporary gadgets used for his personal safety: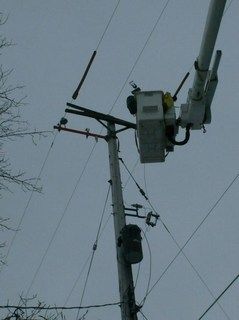 While we kept one eye upon the high-linemen out front Fillip fed the ladies, I made at least three fixes to the electric fence wires. No more pictures for our morning exercises it was lunch time.
Holy Smokers, speaking about co-incidentals, I found that long lost missing mini tool (or tackle) box filled with wiring terminals. I'd been telling Fillip to keep his eyes open for an orange box. Well I was close in my color description. It'll be right on if I were to add some yellow to the original red, then amend my words then'll be right on. (grin)
~~~~~~~~~~~~~~~~
Follows a rant:
Trying to make phone calls to Michigan's DHS nobody's there to answer the phone,
Trying to make another call to the Genesee Valley agency for the aged nobody's there also to answer the phone.
Then there are all the social worker telling us what we're eligible for, only to be denied when we apply. Then filling out compulsory forms upon forms we find ourselves loosing benefits we've already had. It's some kind of a political paper chase the State is involving us seniour citizens to get us fed up with the system and give up so's to as waste away into oblivion.
I relinquish the soap box, who's next:
~~~~~~~~~~~~~~~~
Afternoon shop time little more was done on rabbit hutch conversion. The right side torn out yesterday, some what tied together today, Fillip ripped out the left side old hutch today. Building setting to close to ground for comfortable working on we picked it onto 8" concrete blocks on pieces plywood (non heavy freezing down plywood's). All this activity leading us up to 4:30 PM I called it a day for two reasons. We needed a particular piece of construction lumber for the Hutch's left side, plus there really wasn't enough time to either start or finish another step in the new Oil House's reconstruction.
Fillip's supper concoction was less than stellar, but I ate it anyway cause I was hungry.
"Rainbows."
Fernan