This morning I'd picked up all the firewood before lunch. The last stop loading I had plenty of kibitzers keeping an eye on me.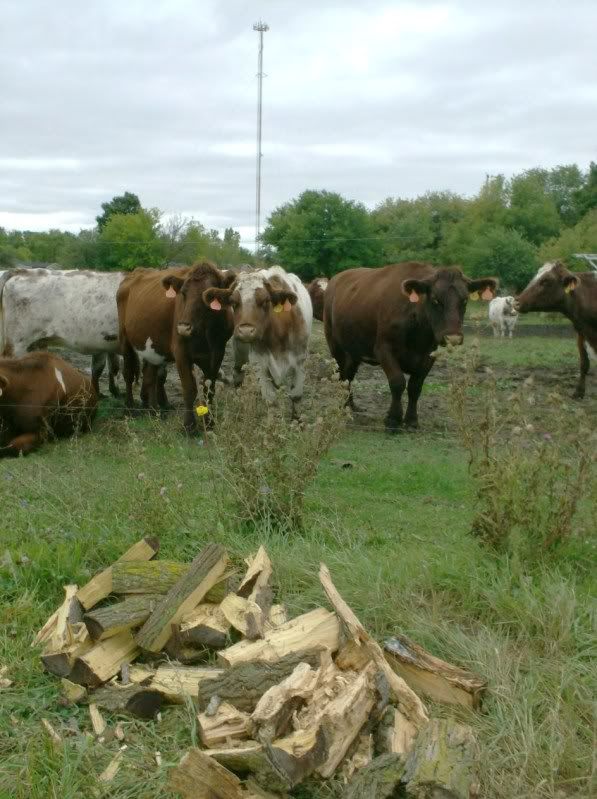 All their mouths going and saying nothing, seeing the lot of them reminded me of the grade and high school heifers I used to see in class.
Lunch so close, I got it into. Lunch out of the way. All my firewoods beside the house, they could wait, as I set about making fix the fences. And there was a lot of fixing required. Fence fixing was the quickest but seemed like took the longest. My just finishing the fences Tom showed having just finished spreading lime. Together we fed the ladies up and down the road. Then he helped me unload the wood hauler at the same time neating up the mulberry tree wood pile for another three years seasoning's storage. One short pile to stack and I'm totally caught up. Damn, I'm so tired…..
We've frost freeze warnings for tonight. No guarantee, only wishy washy warnings. When we get a freeze, I once more get back to haying. Yup we've got 685 bales put up are not yet enough. Now, I've got to contend with possibilities of rain. In spite our wrapping the crop it has to wilt and dry some or baling even. Going to be one interesting tricky fall harvest.
……I'm so tired, in a melancholy mood, my eyes water remembering Mom and Dad, and my beloved Mom-in-law. This is it. Hopefully I may sleep and gream of the bests. BGKC.
Fernan