Had to deal with the two of them this AM. Look at photo. The first time I've ever seen a new pair of shoes blow out a wearer's souls!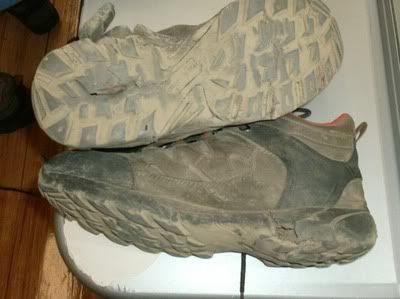 Sneak hadn't been here but about three days when I had to take him shopping for shoes and boots. Wally World first buying him these shoes these shoes not quite three months ago. These things hurting his feet. these shoes breaking open yesterday I was determined to take them back today.
An old customer service wacko gave us (me) some gruff of the mouth service demanding a receipt. What the? Attila the Hun gave me some lip about a required receipt and at that I should have kept it for three months. I keep farm receipts for years, not clothing tickets! By all appearances we were closing on a stand off right up until, I argued, the customer is always! Sneak's got his new shoes.
Somewhere in here we had lunch.
~~~~~~~~~~~~~~~~
Here's where we all spent the whole of the afternoon. Before we had finished we had filled three pallets with eight two bushels each baked goods filled, some of it having even been fed out today. There's now only one bin out of six left to unpackage the bakery goods. Also disposed of one bin giant sized squash, one bin green bell peppers, and one bin cabbage and tomatoes.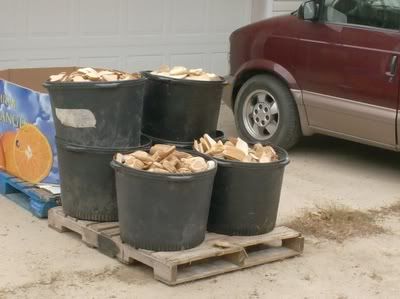 Today's taken home personal pantry swag included three angle food cakes, a couple packages short breads, a number of energy bars (pocket sized), a number of quarter pound cinnamon/raisin cookies, and other equally good or better taste cookie delights. When I had run across these goodies, just like a little kid with new found treasure I spirited this stuff away before anyone else caught on and wanted some. Yum!
Those shortbread's will go well with afternoon teas. The energy bars will make nourishingly good for us pick-me-up all natural treats, out in the woods, especially for some up coming long firewood cutting days. AND, I've not even mentioned the cinnamon/raisin breakfast bagels to go along with the change of season's morning coffees. Me thinks I may have to get us a cream-cheese giving cow.
"Rainbows."
Fernan