Gon-na Be Fun….
…..day to day. Have got an appointment for an MRI and given only a Flint corner Address. Near as I got it figured I either got to find some responsible person to give a defining street address or get there early enough to atempt a pan-handling for a stranger to show me the way to my 2:30PM appointment. Argh!!
If I should get an earlier start than I had yesterday there's the chance I can bring home another load firewood and cover it all before hitting the road!
To make a good job of it makin' the into the city drive be for naught I should do and pick-up on my Crossroads way home some chainsaw oil mix, another new saw chain, an ordered c-saw-bar, my old saw c-chain-raker's ground down and chain 1st time machine sharpened, new chain-bar flat file, a garden rake handle, and couple gallons milk.
I had me a good nights sleep more'r'less rolling over twice sleeping 8:00PM to 6:00PM. Oh boy, that much down time should have me recharged and able to go it a Hell of an all day series of accomplishments? (I can dream) (smile)
Now, already late getting at it I've got to find and sort my meds. Somebody might hsve done me a favor. Mt prescriptions had been filled this time with a 90 day supply. Them's containers are to-big to fit into my daily handy pill box case. Soooo! I must redistribute then all into smaller bottle what they will fit and stow the rest. This'll save me 2/3d's the scrips costs and hopefully few trips to the pharmacy. We'll see? The money savings I already like.
All this nice open weather we've been experiencing may very well start coming to an end tomorrow night with chances of rain and/or snow? 'Twas nice while it lasted. I've liked it. Any day now we'll be forced back inside the shop for tractor's and my trucks repairs. The poor old 1850 Ollie standing lonesome in there is probably feeling totally ignored and unloved by this time.
Mo later……
~~~~~~~~~~~~~~~~
….and here's more:
Wow! I must have been wired this morning my rambling on state. Felt so much better than last night. Seems I needed and found useful the extra sleep. Worst part, I'm not the least bit better looking!!! (lol)
Once righted and settling into my grove to sort and prepare my daily doses of medications this is where I started this morning's routines.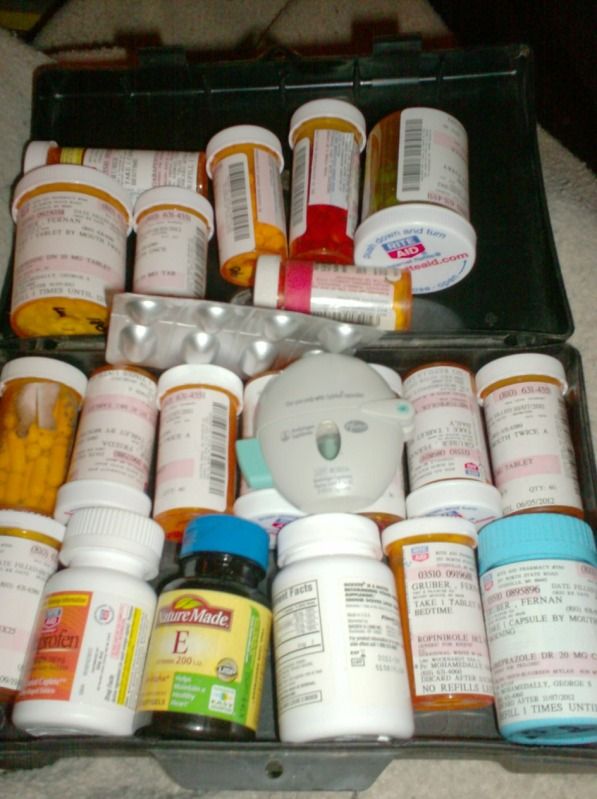 and there are five more bottles not in the photo. Anybody want to help me out taken some of these and letting me know how I feel?
~~~~~~~~~~~~~~~~
This the bale Sneak dropped.
And, here I am doing a gingerly balancing act delivering this superbly grown, cut'n'rolled up hay bale to my ladies? 'N I made it!
~~~~~~~~~~~~~~~~
I hate fixing tires almost as much as I like tramping through the fall'n'winter'n'spring mud's.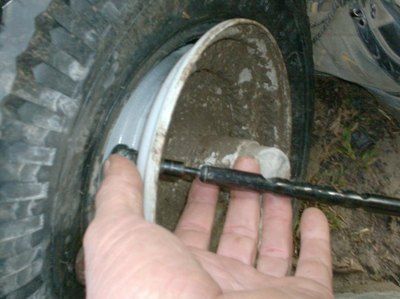 This was this Winter's 2nd valve stem failure. I did this tire repair about a week my fingers ago uncomfortably cold the tire still on the machine.
Oh he fun of farm life in our 600 acre sand box. Never knowing what needs doing next. Well, almost next. (all smiles)
Even mo later…..
~~~~~~~~~~~~~~~~
….and then again much later:
Chopping firewood we had a mite bit of trouble. 1st the second chainsaw messed up and became inoperable causing our saw cutting in half. 2nd-ly we ran out of mixed chainsaw fuel. And the time flying faster than our filling the wood-hauler fell short a full load. time running out and our having to go to keep my (head's) MRI medical appointment on time. Lunch was quickened when Bro' called wanting help hay his Spring heifers. While the hay was put out I dropped the second saw off to Chip from whom I had borrowed the saw. Was found later I had miscued putting the sawchain back on the saw after I had filed some burs off the saw bar. In Chip's hands it was a simple fix. Whew, "All is well what ends well."
Being late when I got out of this last medial facility it was going to be dark when we were to get home. Regardless, we stopped for all we could get: the gasoline oil mix and a new flat file. Next and last stop milk, tea, and joy soap. By the time we got home we had put in a day. Tomorrow we cover our winter's firewood we've cut until today.
"Rainbow."
Fernan