Snow Day
It's Saturday. The day after the night before. Checking with the neighbors who took to the Frankenmuth Snow-fest last night everybody had made it home safe and sound. Our neighborhood is plum full of survivors.
Snows and chilly breeses whirling around the house, outbuildings, and the shop; Fillip and I holed up inside the shop using one light to continue our tire cutting activities. Wearing a "Best" brand saw blade out and trying a new "Black & Decker" the last blade failed miserably to cut the first steel belted tire we took it to. (grumble, grumble, growl, growl) it was time again to go the Crossroads Hardware store for more "Best" saber-saw blades. On returning they were just what we needed. These "Best" blades instantly took to readily cut those steel belt liking they were butter. Getting close to running out of tires to cut we switched to breaking down some old mounted tire beads.
~~~~~~~~~~~~~~~~
Oh-boy I can't leave this next story alone. So I'm backing the morning back up into last night's funs. One of them was our (my) sitting across the table from these livelies. Thes pretty young ladies were part of Miss Michigan's queen's court one of them 2010 the other 2011. Good gosh golly holy wonders. I was surrounded in beauty, some of the prettiest flowers to grow on two stems.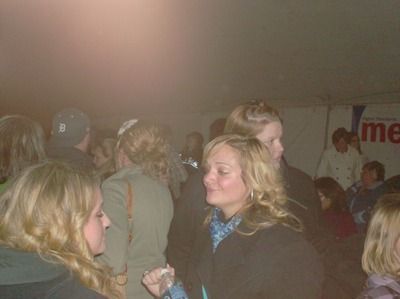 Oh, I fanaticized, for only a moment, taking them home; but, I sadly realized I'd not likely live long enough to finish bringing them up, my unable to keep up with them the could most likely kill me with kindness. Well, a dirty old man can dream can't he?!
~~~~~~~~~~~~~~~~
It was during the senior singing contestants individually come on stage to sing their songs the first gentlemanly performance touched me so I took to holding Frieda's hand. I couldn't help it. It was a naturally gravitational pull of our spirits so long coming together in a long on-going growing old together. Noticed a handsome young lady I'd judge as about thirty-something thought we were a couple to watch. Frieda in her wheel chair myself standing beside her my holding her hand. The young lady had commented she'd never found such man as myself to form a loven relationship to grow old with. Her last comment was something like we made it look so easy. So much noise in that beer tent with a stage, speakers blaring, performers performing, people clapping and cheering their favorites on, I could not tell this Miss just how much I had suffered our 55yr institutional relationship. (grin, grin)
~~~~~~~~~~~~~~~~
Hold it! Backing the beer dispenser up. One of the two girls pictured above also (on left) has a thing going for the young man we gone to root for in the adult part of the singing contest. Additionally this same young man I'm talking about his having won this years singing contest the last two years running, when the only young adult lady competing against four guys. Our young man and the young lady had tied for winning scores. So, instead of a run off performance our young hero motioned to the MC to give the lady the 1st place win. Hmmmm…. I'd sure like to see out Anthony (Tony) Owens go to Nashville and win a recording contract. This gentlemanly young man can deliver a song.
~~~~~~~~~~~~~~~~
Unable to finish this, while there was still more to write about, I've simply have got to call it a night.
"Rainbows."
Fernan