Our primary outside firewood pile as of yesterday is averaging 5'x'5'x16'. It's not enough to get our home through the winter, but it is a daurn good start.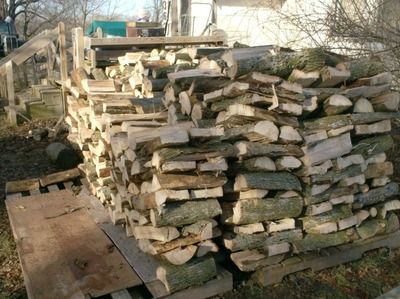 Here's one colossal opps. Fillip had made an initial sloppy job of cutting a bird's-mouth plus a poorly heightened place clean cut from the opposite side. The tree started to fall. Only it had become dangerously entangled in a couple other tree's wild grapevine entanglements for a clean fall.
To effect a challenge to bring the tree down I re-cut a second bird's-mouth some 18" and properly lifted 2nd ordinary tree felling cut. The tree's wild grapevine entanglements still dangerously grasping the tree we put a chain on the primarily bulk of the tree's trunk also fastened to the tractor. I then backed down the whole motorized wood cutting conglomeration; tractor, wood-hauler trailer, and wood-splitter in all. This was one of the last two fallen trees we had pulled out into the Summer shaded lane and cut-up day 'for yesterday.
This last snap is showing a keyed lock in the Wood-hauler's tongue mounted toolbox where in we may handily time savingly lockup our logging tools.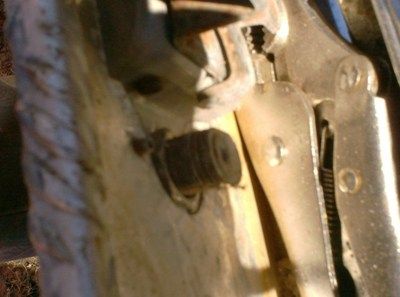 ~~~~~~~~~~~~~~~~
Listen up, I want the soap box for a few:
Caught on the evening news women modeling women's clothing must be sized between a 4 and 6. What the shriveling Hell is this. When I took my Princess for a wife she was the scrawniest tight arsed sized 12 - 125 pound bag of bones unimaginable still a-waiting certain biological animal parts only dreamed of, on either our wanted parts. (grin) Mine Princess was so skinny thoss early days when we made love we sounded like a pair of galloping dominoes thrown across a marble slab. So, it was after about twelve years marriage seven child bearings, a gained few pounds roundin' off all her sharp edges er anatomy still sized an only sized 12 weighing only a cushioned 135 pounds. My having a big framed colleen there was no God's green earth way her bones could have been down sized (even boiled) to an average fashion model's sized 5 anatomy. What the devil, she'd supported a 5'6" tall 38-28-39 inched hour-classed figure. I mean for the 1st 35ys our married life my hands spanned her waist with a 4" space 'tween my thumbs and finger tips about her waist.
Bottom waist line, what's wrong with women (average) sized in 10's, 12's, 14's, or whatever dress sizes what fits them. Average sized women fall into the averaged sized 10's and 12's off the rack wear. When are these designers are going to design women's wear for the average human female. Is this some kind of a corruptible menacing mind set to destroy the female of the human races. Perhaps we need some sort of punishment laid on these criminally insane women's health destroyers. I've always been happy with my sized 12 main squeeze. Never once have I ever lost her between the sheets, nor under the…..er….never mind…..I ain't going there (again at this late date).
~~~~~~~~~~~~~~~~
All-right'r'all-wrong:
I've finally accomplished a truly worthless day. I didn't get nary a thing done all the day long. A weather's low pressure system hanging over my head for hours without end. I couldn't even motivate myself into doing anything this AM. And, there was plenty I could get into. Re-adjust Dumpy's clutch linkage. Work on 1850 Ollie. Make trip over to Crossroads hardware store for scads of previously ordered whatever it was I had wanted? Plus pickup two borrowed chainsaws for our next firewood foraging adventures use. Ones had the drive sprocket replaced. The other one unable to replace the coil, the hidden coil's bare wiring was carefully taped and water-proofed. We were asked to use it and see how long it'll run in use.
After lunch still unfeeling like even a crack of noon start on the day. I heroically went undercover (quilt really) to escape sleep the combined effects of three plaguing me headaches. The cowardly escape worked. In my sleep my head and body didn't feel a thing. Fact, I'm so well rested I'll sleep good tonight.
"Rainbows."
Fernan