About 60 yrs ago while taking a work break from lower Mich in the Upper peninsulas porky pine mountains I acquired a pr. of the great depression's surplus CCC snowshoes from an army-navy surplus store in Iron River. They were in absolutely splendid condition looking near new. Outfitted with the rocking leather strapping to buckle over my shoes, I had a ball using them that February excursion. Snows up there were well over my waist attempting a walk into the woods off any plowed or snow packed forest trail or highway. With them, because the snow was so cold and powdery each step I took I still settled about ten inches into the accumulated fallen snows. So much easier to get around on I kept close tabs on them over the ensuing yrs. A great difference in snow's between the upper and lower peninsulas on fallen wetter snows down here (southern lower Mich.) using them they didn't settle nearly as deep in these more southern snows.
I don't know what it was that drew me into doing it but I thoroughly enjoyed February's winter hikes into the wildernesses. It was the combination of the cold frozen weight of the snow knocking down the weeds, briars and brambles for easier passages unthought-of during the warmer months. The fallen snows some (many) blown some drifted over the holes helped in winter's way level the terrain some. Again snow shoes by there padding mass made my walking into areas easier where I'd never venture during any other season.
Go slow. Takes more than just putting them to use them. Go Slow! You'll get the knack of swinging each foot out in turn to go from here to there. Make your first hike a short one. You'll find muscles you didn't know you had talking to you. Fit a banana and/or an orange into you diet. And do some stretching exercises before and after every adventure out.
~~~~~~~~~~~~
Took this swinging in the breeze part off Tall Ollie some few days ago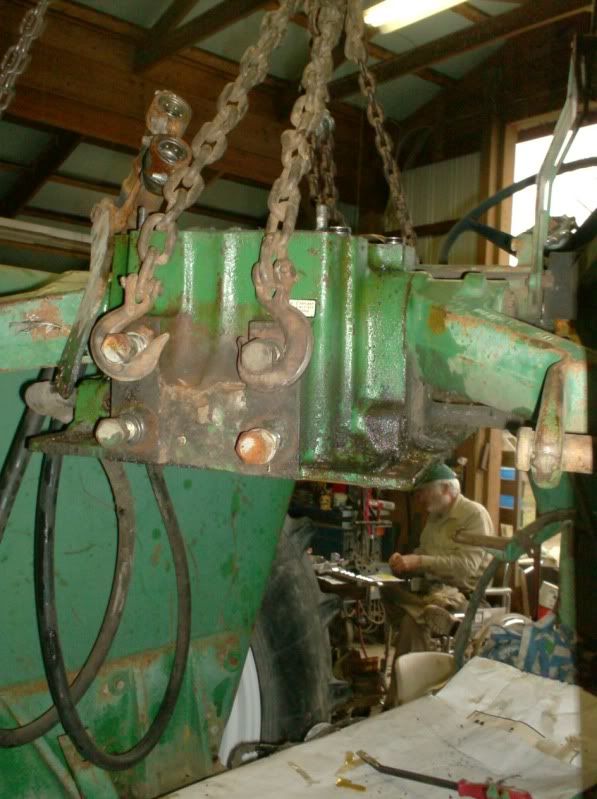 This piece and it's related parts have been thoroughly cleaned and reassembled today. Fun, fun. Fun! Several other issues to take care of it'll be more than a few days before the Tall one will mechanically run out of the shop ready for next haying season's work. I can hardly wait.
~~~~~~~~~~~~
Ho boy, I slept long an hard last night. Fell asleep early evening last until 6:00 this morning. Hopefully my energies' last longer today. I've still got some serious cleaning (picking up) the shop apron before the snows hit us. So while it's late its still here, last night journal offering.
Fernan