Before I was married, I was taking some time off in Michigan's upper peninsular, 36 miles from the nearest anywhere. Had decided to harvest some beaver drowned out cedars in a cedar swamp to take home and sell off as I needed them for customer fences, etc. Didn't have a chain saw. But had an axe, a bucksaw, and a small one man crosscut saw. climbing over windfalls every direction to another tree footing was hazardous. Was hazardous enough I miscued a swing with the axe, it bounced of a something I had watched close enough, rickashayed off another tree trunk, coming down across my left foot's instep. Darn it hurt like hell but no damage to my 9" boot I went limping on with my harvest. A few moments later I wonder where I had stepped into some unseen water, left foot gotten wet. Unlacing my boot thinking I dump the water out. When I saw my crimson extract I retied my boot and headed for the cabin. There boot off I had simply split my hide with that axe right through the undamaged leather my work boot. By myself, to far to safely drive myself, I put my foot in the sink and washed it, got mom's sewing kit down and commenced to sew myself up. Didn't hurt a-bit. I likely put close to twenty little bitty stitches next to each other the length that cut. I put a kettle on the stove heated me some water adding salt. I soaked my foot for awhile. Feeling some exhaustion I laid down and took a nap. Later woke up, soaked the wound in the reheated salt water, had supper and slept all night. Next morning soaked feet in the lake only few yards from the cabin door, trying to take down the swelling. I spent that day hot and cold soaking foot. Went back to my light logging the last three days I was up there and brought a pickup load of cedar fence posts home with me. I healed and suffered no ill effects. When foot was seen by a genuine saw bones sometime later he commented on the fine sewing job. When asked "Who?" I told him my story.
~~~~~~~~~~
The tall one (1850 Ollie) was standing on all four its own shoes before I left for lunch.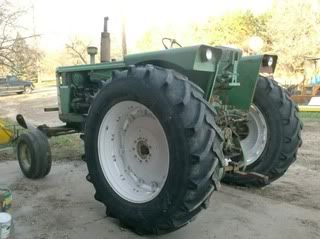 ~~~~~~~~~~
When I got back to the shop from lunch I went back to painting my sign posts. Something I had started while waiting for the others to gather their acts together. Obviously different, I'll post a picture of one tomorrow positioned for it's implemented purpose.
~~~~~~~~~~
This guy come sliding out of the shelled grain wagon when I was grinding grain Friday morning. It looks awfully thin for being where it had thought to have tried getting its fattening fill. As it is I guess that mouse experienced a crushing experience. (hehehe)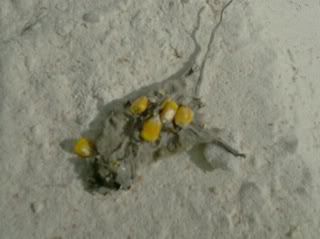 ~~~~~~~~~~
This has been my day. Darkening at 5:30 I've got to hit chores earlier everyday for lack of lights on JD loader tractor. Got to work on them? Meanwhile, I got in late, tired, hungry and in no mood for the internet but rather bed. BGKC.
Fernan