3:00 AM, ...I'm wide awake (yawn).
Weather here, barometer rising, temps sposed be low 50's*. I can handle that.
Have bits and pieces brush scattered all across the realm needing picking and put on one burn pile before entanglement with snow removal equipment and feed loaded loader tractors.
Gee, I know there's some vintage coffee around here somewhere. Just nuked a little it'd be as good as new… Near good as new anyway.
~~~~~~~~~~~~~
After lunch with a determined lilt in my step I took out of here fixing to cram two/three days work into one afternoon. Getting started I got a pair of horses out-a the barn for support my about to clean up some the old corncrib lumber mess. One thing leading to another I got to suffering and thinking I might better get the ladder out of the barn for fixing the tenant house roof. One thinking was, "This nice weather ain't gonna last much longer." Sidetracked only for a moment I jumped in truck and headed for Handy's Home and help. In moments he had my wood hauler emptied and we commence to go after ladder. I must explain I built this ladder out of 24'x 2"x4" rails ladder rungs 2x3's in-letted every foot with a bonus one foot hook built onto the top end. Another thing I thought it weighed less than half as much fifty years ago when I made it for working barn roofs. Wrestled out of the barn, trying to put it up against the house, Handy and I lost it darn near flattening both of us. Time to reconsider Shorthorn farm MOO (method of operation) we went to shop for an extension ladder. This time leaning the upper section against house I hung the lower section over the house ridge. Surveying damage I made mental list tomorrow's needs. Good thing, too, I was about to find out. Just shingles and nails. Tools were already on truck. First ladder laying kind-a askew where it had landed when it fell, Handy and I righted it laying for the second time over the length of the wood hauler. Getting past 3:00 PM I had hit my wall. The last lift that once upon a time lightweight ladder was near to doing me in. I was hurting, suffering, I was short of done in. I took handy home. Going home myself I found my walking erratic. I had to sit a spell. Only trouble was when I sat my conscious lights went out for a couple hours. Eyes opened a couple hours later, I continued/continue feeling drained. Well at least I'm all set for shingle making replacements come morning.
~~~~~~~~~~~~~~~~
Thought someone might have liked to see this radiator protective screen to filter off (out) weed seeds, grasses, fuzzy-wuzzy's of vegetation's productive crops and weeds. The rails are made from some pieces of aluminum siding I had talked a neighbor out of who was replacing this with the newer vinyl siding craze. The screening Was a road side shopping trash stop picking up a discarded patio's slider screen door. The rivets were on hand. The aluminum I folded on our local racecar builder's sheet metal break. Its fun making something useful from near nothing. Now, excuse me while I let out my hat band out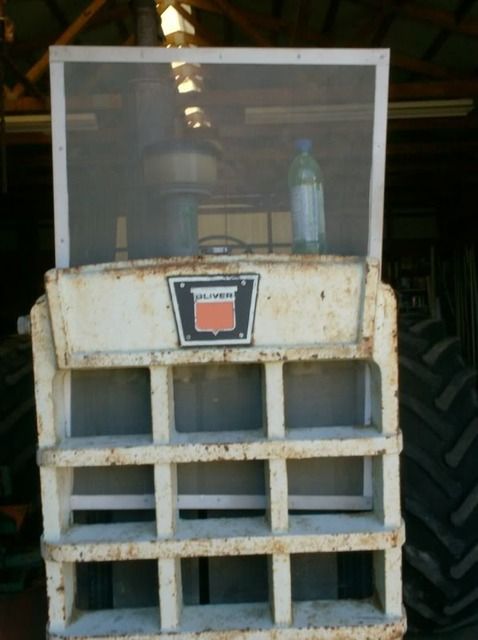 This gate having seen better days needed a complete rebuild. My getting out of that I managed to patch it up one more time adding to the assemblage a roadway sign post driven so to add some support to the closed closing end.
I fixed this poor thing this very AM. Should took picture of stellar repairs. There's tomorrow.
~~~~~~~~~~~~~~~~
In closing not sure what all I wrote, I ain't going back to look. I'm just lucky getting it writ without trying to edit it. BGKC.
Fernan