Herr Clink has been making some, "I'll cut your hair" overtures around here. She's suggesting she'll only trim me up around my face leaving my neck hair grow long for its furry warmth. She's hinting at only wanting a better view my eyes. Anyway listening to her prospectus I'm dreading coming out from under the sheet with bangs over my eyes? I'm not so sure I could take all the comments for the some such an appearance from that occasional dinner stop? Nor, could I take it the Scoob woofing it up and the ladies "My, how cute he is" comments either...
~~~~~~~~~~~~
Well, once I got underway, this AM, I managed to grind a neighbor a load of ground corn. I even delivered it and parked the load in his barn, all before lunch. I hain't been messing around here!
~~~~~~~~~~~~
Follows a picture my afternoon accomplishment.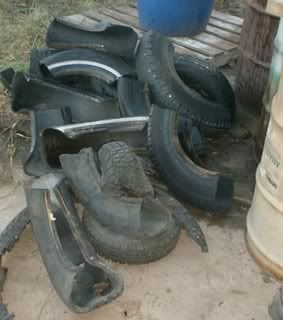 It took me most the afternoon using three saws each with its own style/type blade. That or load up at least three pickup loads varied tires and PAY a supposed tire recycling center $3,00/car tire, $15,00/tractor tire, to gladly take them off my hands. So between inflation, a poor profit margin, whenever I should find idle empty time on my hands. I guess I'll be cutting up tires for fun and relaxations profit for some time to come.
~~~~~~~~~~~~
The hour's nearing 8:00 PM and I'm just starting to feel the need for sleep. Sure beats the unnoticed near delivery my face in my supper plate. BGKC.
Fernan