As it turned out or as it worked out today was feed grinding day. It was also Wilma's moving day and Frieda wanted to see the action. So I loaded up Her Mostess to take the short drive. Upon getting there the sow drive was all over. Frieda did get to marvel over Wilma's cut little piglets. Not all was lost. Checking out Wilma a near skinny image of her former self she was unappreciative the rest laid upon her. She wanted her baby's. And that according to her master was not going to be.
Taking Frieda back home it were time I stop by the elevator for supplements and a couple bags selenium salt. Fine! No selenium until next Thursday. Argh! Madcap Larry got my a bit of my goat fooling with me, "Selenium had come eight bags on a pallet." he'd said. I looked for it. Ha ha! A feeble joke on me. Ho ho! I smiled and fussed a wee-bit to myself as I walked away.
Supplements loaded Barry and I were off for the empty feed wagon. The grind went smoothly enough. Before we were through I had backed the Leland tractor Bradley grinder combination from a-top the winding drive all the way down to the barn crossing the creek on the way to park the whole mechanical menagerie into the barn without so much as a single correction the whole normally irritating distance.
Barry having lunch with me/us dinner out of the way we progressed down to the shop and eventually worked on the heavy disc's final assembly. We finish making and adding in the missing scraper attachments the machine will be ready to go to work. Now I'm wondering if the seed has been ordered.
It was about 3:)) PM when my body and mind hit that invisible debilitating wall. Sitting down for a few moments to collect myself I near fell asleep. A lot I'll get done snoozing portions the afternoon away.
Tomorrow Good Friday Easter only this coming Sunday away, I can't believe our hothouse weather. The disc put a-field I've the Duck Lake pasture fencing to possibly take up. The last act mentioned will depend upon how well our hay holds out s against my having to turn the ladies out without a Duck Lake first cutting haying.
~~~~~~~~~~~~~~~
First new Shorthorn country calves of the 2010 season.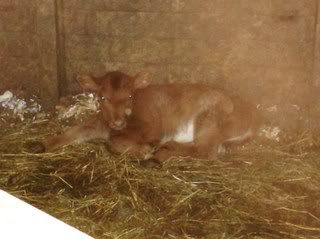 Damn, I was so exhausted last night, I finished this this morning. I had to let this go and finish it this morning. Hope everybody has continued to BGKC.
Fernan