Not much to write about for Sunday. Saturday's rain sure made a mess of my hay for Sunday. Making it beyond soggy. Much to wet to do anything with not that I had originally intended to haul hay all day. Shane, only a phone all away we both hauled the hay.
My hay-yard is now looking exceptionally healthy. But it was not without it's cost.
On the very last load Shane towed in, one of the WD45's tie rod ends fell straight away. No part available today I must look to nigger rigging it for today's use if I should decide we must rake the alfalfa while it is still green so's the stems may hold on to their leaves.
~~~~~~~~~~~~~~
Since stepping out my door my morning activities had been a bust lot my moving them right along. The barn's still here, the broken WD45 was where I had left it last night in the hay-yard. Taking my tub of assorted bungee cords and rubber tie-down straps with me I found use for four of them. A kick of the left front tire, a slap on the dislodged tierod end sending it home, the straps quickly, solidly, and applied as tightly as possible to replace the broken part's original metals lapping, it would seem I've made that nigger rigging a stretched imagineered a workable driven success. The WD45 went a-field this very afternoon to rake hay. Must add Shane was right behind me o the little Ford.
On the more dismal side of my workable efforts to keep things rolling right along on the Shorthorn country farm front. Nuts, I've emptied the farm's gasoline tank. Sure hope I needn't have to address the Crossroads for temporarily filling our fuel needs gap.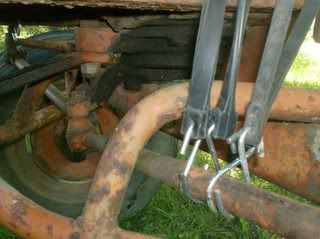 One a-field my making the same turn a couple three times that cussed tieror fell off. Rearranging the straps and one bungee cord w had managed stop that.
A couple things. As much fun as it is driving the old WD45 that lop sided-ed arrangement sure had gotten to raising Hell with my left knee and calf. Had that hay raking to have taken twice as long my left knee might have felt like falling off before we (I) had finished. By time I got home I took some free time seriously opening my bottle tranquilizers and downing one. No beer with this one. Had had a beer earlier and that had filled my prescribed quota for the day. ALTHOUGH, one them tranquilizers washed down with a brew'd sure make me a happier camper.
Frieda in the sack, I don't know what I'll do with her. Sheesh, she's sure turned into an old gray mare. So while I had come in early I contemplated what'd I might do with her next week when Doc's over his vacation. meanwhile as long as the WD45's experiencing tie-rod end's trouble, the engine could stand the sparkplugs cleaned, gapped and tested, and clean the fuel filter also.
Yeah, I know! What am I doing writing my mechanical problems included them here in my Journal. Well, Its like this, written someplace I'll be less likely to forget them, better registered in my vacant mind. Its my handicap, not yours.
I had me a weird supper. Had a craving for toast slathered with apricot jam along with a glass of milk. For desert I opened a can of tamales. Tummy satisfied, knee calmed down, my mind emptied of worries, I fell into a deep asleep waking up long after dark, midnight even.
Didn't see any wildlife today. Was so intent on keeping an eye on my mark so's the windrowed hay I raked was turned just up on edge (or its side if better understood). Here was no time for sight seeing.
"Rainbows."
Fernan