My hands wrapped around a steaming cup-a-coffee. At last, darker now than at sunrise, raining the rain's promise since this Thursday last. Sure took the weatherman long enough to get it right! I'd busted my butt to bale that hay ahead of the predicted heavy Thursday's rain we didn't get. If that forecast hadn't been postponed, I'd finished that baling last Wednesday's evening.
~~~~~~~~~~~~~~
Frieda's rainy day itinery….:
"Come on get up and get going. I want to do some things today." she'd said. I guess I had to get me off my arse.
"Worm barn cats." she had said…. I did that
"Take me to my hair dresser. "…. Well I did that…. Coming out she didn't come out looking any thinner.
"Take me to a farmer's market," (for real) for genuinely grown Michigan produce supporting our farming neighbors. …… Did that. Frieda buying Michigan blueberries, cabbage, and a giant bell pepper. Then she says, "I ain't fixing you any stuffed peppers I can't eat." What a bummer! What a negatively bossy old woman…. She reads this I'd better already been hidden.
~~~~~~~~~~~~~~
Here's two pictures of Holly for Paula.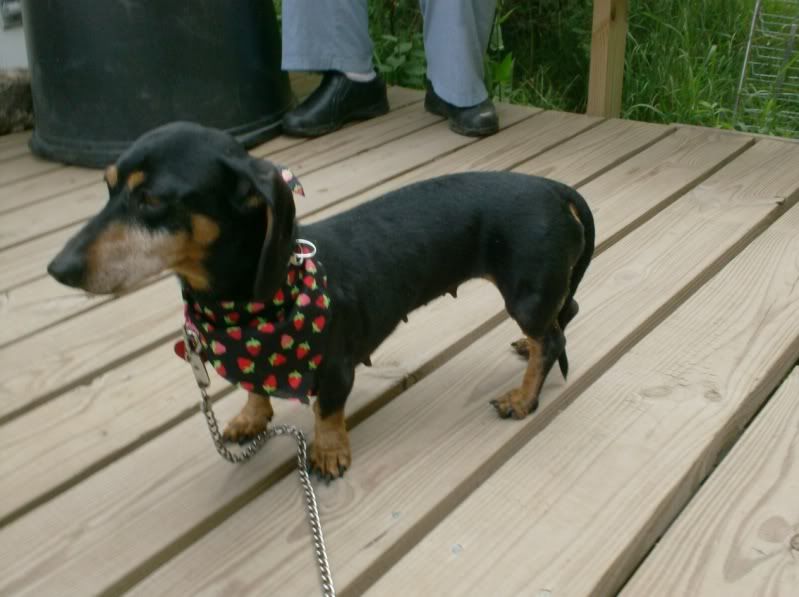 For anyone wanting to see more pictures stop by one my haunt's http://countryvisits.com/forum.php until I can produce a Shorthorn country album. Oh, and I'll take some help doing so from anyone. Suggestions?
~~~~~~~~~~~~~~
When everyone finally got their acts together we managed to move a few bales in. between my loading wagons I saw deer twice. The first one so big I hadn't rolled a bale big enough for him to hid behind. In the velvet he was sporting a rack what one day may hold for coats and their corresponding hats. Can't be true in the velvet they look bigger. A second deer a big doe had come out That lasted right up until a bearing went out on another hay wagon. So while one committee took to working on wagon axel bearing I took to making mowen the last first cut hay field. With that last field mowen also brought to a close another Shorthorn country day, until I remembered I hadn't fed the calf. Oh balls, I had to redress. Make bottle and await next commercial for some silly movie on TV.
Just up and in from the barn and coral. Day six I didn't have run the cow and calf into the chute. The calf met me almost halfway within the corral. This is making progress. To bad it's a bull. I could have used a new pet around here.
Fernan