It has been a day that was? Frieda had it in her bonnet she had to see Doc. So we saw Doc starting out early this morning. She's lost some weight, is breathing easier, and penicillin medicated for a sore throat. (sigh) she should be in good voice shortly.
Took her out for lunch as she had likely contrived this morning Doc appointment just a finagling an out on the town lunch. I know her ways, and there be no fun in them if I didn't fall for them most of the time.
~~~~~~~~~~~~~~~~
Here's snapshot poor Craftsman having lost hood. Been suggested to accept it as a blessing in disguise allowing the engine will now run cooler.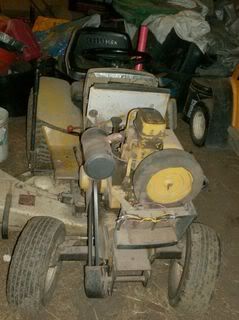 ~~~~~~~~~~~~~~~~
A slow day and well caught in a rained down deluge we went checking on Clover hay field. Didn't do to well. Most clover didn't reseed back. Looks like a winter seeding coming up for 2012. Grass looking good. Another adjacent field under water. No tell when we'll get on it to work up and plant? Made phone call and acquired another twelve or more acre hay field for the season.
Another week in sick bay that cow will go to the livestock exchange. Other wise it's been a slow day.
"Rainbows."
Fernan