…."is it ever going to quit raining?" Not really although how many times has it ever been said. This time I was thinking more along the lines, "What day is it?" Okay let me look and speak more of these lines. While it rained all over us yesterday I traveled making numerous shopping stops The stops mixed picked up a part ordered and a few others in my travels. A big part of my motoring about was grocery shopping one stop for the bargains, another for those things I couldn't buy at the first one.
So, why am I acting (who's acting?) a bit confused I did enjoy a few rainy hours pecking away at setting to print a story or two. Oh, I did complete a needed feed grinding parking and/or setting Shorthorn country's machinery doing it, but it was those precious few stolen moments here and there that refreshed my mind. Sitting on my can during those concreted same moments a many my joints savagely locked up leaving me some displayed action involving some rather undignified efforts to loosen the sums of them merely going after a drink more than once to also refresh my palate and thirst. How about this! The last flurry of action upon myself succeeded taking care of two folds. Enjoying a beer and the exhausting exercise's displayed my lazily up to a point enjoyed. Moral? Yes there is a moral to this story. I must personally keep moving to stay loose? Humbug!
Now then, my conscience kleared, want-a read my idears for my day for an even rainier day? Thinking unloading Cushman here, wrapping myself as well as I might from the rain and head for the shop. It could be a right good day replace that leaking transmission seal AND once and for all take up the Cushman's brakes to properly wear in against the machine's stronger engine capable of operating against their drag.
~~~~~~~~~~~~~~~~
What is written is written. I'm not changing a woid. Butt, what's happening is happening, I've just been down to the barn looking over the eastside pasture walking along my way alls quiet. So quiet the ladies in their fur covered leather coats don't seem to be the least bit phased by the drenching rains descending upon us. I had managed a spectacular broad jump over the barnyard creek to make my way to the barn three sides bordering on water front property. Inside I fed the cats. I also unloaded the Cushman trying to consciously remember why in face the continued down pour outside even to the wet creeping under the barn doors. While I ain't left yet don't mean I've given up on driving Cushman to and into shop don't mean nothen yet…. (grumble, grumble, growl, growl…)
The weather yet will either way likely make a liar out of me what I'll either do or don't get done today.
~~~~~~~~~~~~~~~~
A-Farm-TIP to save a buck:
An aerosol can fluorescent orange, some masking tape, and pre-read newspapers.
A squeeze of the button and an Slow Moving Vehicle sign is rejuvenated for another season and more. Cost? That can paint was $5.98. It has brightened the orange on uncountable SMV's priced from $7.95 upwards to $19.95 dependent upon whether the SMV is just the contact paper image or the hard copy ready to wear plastic of tin backed versions, plus place of purchase.
Here's yesterday's grinding scene between the heavier showers.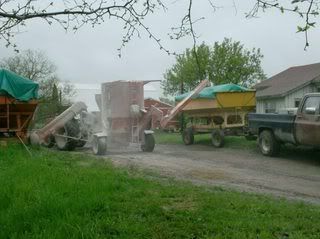 Shelled corn augured from wagon on left into hammer-mill part grinder mixer center. Small hopper on back machine's where the supplements have been poured in. When large bin is mix filled (seen through staggered tank windows) the augur on back right side machine will be slipped under the cover of waiting wagon behind Ugly truck. When the grain's been processed and all's done machinery goes back into barn. Lastly the Cushman Truckster is parked temporarily behind it just inside big door for now.
~~~~~~~~~~~~~~~~~
By golly gee whiz, I have had one great afternoon. Having looked up from my naughty story I saw the tarp on the shell con supply wagon appeared dry. So, I looked out at the deck and seen it drying. Lunch over, I was on my way. I grabbed some loose parts of Ugly's seat, got out the Truckster and was on my way. Holy smokem's Fat Man three hours later I had returned home the new transmission seal installed, the hydraulic and mechanical brakes taken up some and working so much better. The Cushman should be trouble free for the whole warm weathered seasons. I'm one happy camper counting the frogs jumping about as I waded the barnyard creek. I'd been a good afternoon, Fat Boy. So happy with my efforts I even let Fat Cat Sweetheart congratulate me. She really just wanted a loving bet; but, I assumed to take it as a congratulant gesture. I can be flexible that-a-way.
"Rainbows."
Fernan